Blasphemy and Bites
An evening to tantalize your taste buds and excite your eardrums Prepare yourself for an evening of musical and culinary extravaganza as avant rockers Pitom and Gutbucket join forces with writer and cookbook author Leah Koenig at Brooklyn's new killer … Read More
By Yoshie Fruchter / April 13, 2011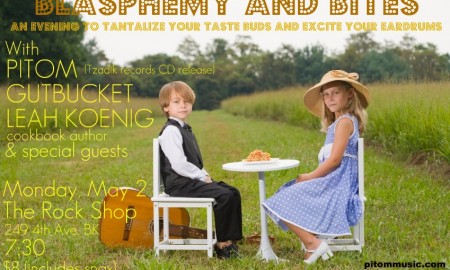 Jewcy loves trees! Please don't print!
An evening to tantalize your taste buds and excite your eardrums
Prepare yourself for an evening of musical and culinary extravaganza as avant rockers Pitom and Gutbucket join forces with writer and cookbook author Leah Koenig at Brooklyn's new killer venue, The Rock Shop. The music will be eclectic and raucous, and joined by delicious homemade treats. Plus, enter a raffle to win a copy of Pitom's new album Blasphemy and Other Serious Crimes and Leah's new book The Hadassah Everyday Cookbook. So head on out to dance and stuff your face.
$8 cover includes cookbook snax!