Festival of Strikes
JDub's first-ever benefit party, hosted by comedian Eugene Mirman! With Soulico, The Sway Machinery, & Deleon First 150 people in the door get a free drink! Plus, a very unique holiday picture booth and a craft area to make last-minute … Read More
By greenman / October 27, 2010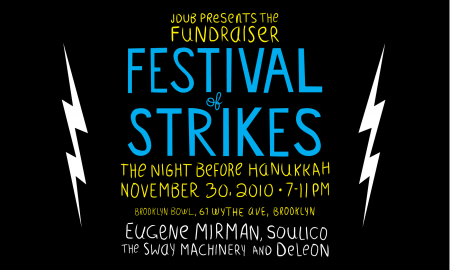 Jewcy loves trees! Please don't print!
JDub's first-ever benefit party, hosted by comedian Eugene Mirman!
With Soulico, The Sway Machinery, & Deleon
First 150 people in the door get a free drink!
Plus, a very unique holiday picture booth and a craft area to make last-minute gifts!
Sponsored by Tablet Magazine; made possible with support from the UJA-Federation of New York.
Co-sponsored by the Six Points Fellowship for Emerging Jewish Artists, HIAS, Joshua Venture Group, and Birthright Israel NEXT.
Those interested in a VIP experience in support of JDub are encouraged to purchase a donor bowling packages; details at www.jdubrecords.org/vip or 212.930.3671.
Doors: 6:00 PM / Show: 7:00 PM
$15.00 – $18.00
About the artists:
Russian-born comedian Eugene Mirman was recently named the "Best New York Comedian" by The Village Voice and one of the 10 best comedians of the last decade by Paste Magazine.
The Sway Machinery's sound stems from Lockwood's rich musical relationships with his grandfather Cantor Jacob Konigsberg and his mentor Carolina Slim, the renowned blues player who fondly guided Lockwood's musical development.  The band will perform songs off of their debut album, Hidden Melodies, Revealed, as well as from the forthcoming album, The House of Friendly Ghosts Vol. 1, the inspired result of a trip to the Festival of the Desert in Timbuktu.
"Deep and funky at times, bluesy and hypnotic at others…exhilarating, incomparable moments." – Jambase
Reimagining 500 year old Ladino folk songs as modern indie rock, DeLeon's debut album was described as "a dizzying ride that answers the question, what if the Os Mutantes were Jewish?" (Heeb) and "seamless swirls of low-rent loft rock and Spanish-crooned sunset laments." – CMJ
Israeli DJs Soulico create "an exuberant synthesis of traditional Israeli folk melodies and familiar hip-hop sensibilities." – Pitchfork.
About the event:
Kick off the season on the night before Hanukkah. While at the concert, capture that perfect holiday picture to send to friends and family and create last-minute gifts. Plus, the first 150 people in the door will receive a free drink!