MONGER
Former, house choreographer for the venerable Batsheva Dance Company, Barak Marshall is one of Israeli dance's most explosive artists. Set to a score combining elements of Gypsy, Balkan and rock music, Monger is a bold, highly emotive piece of physical-theater … Read More
By Barakmar / March 14, 2011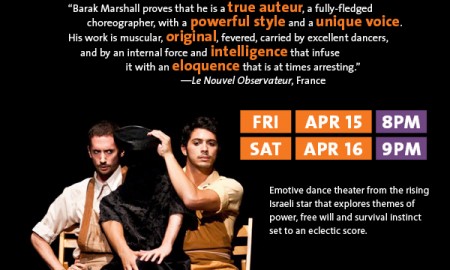 Jewcy loves trees! Please don't print!
Former, house choreographer for the venerable Batsheva Dance Company, Barak Marshall is one of Israeli dance's most explosive artists. Set to a score combining elements of Gypsy, Balkan and rock music, Monger is a bold, highly emotive piece of physical-theater for 10 dancers. Barak's works are currently touring worldwide including shows in China, Spain, Italy, Korea, England, France and Holland.
For 50% off on tickets please go to http://www.uclalive.org/rd/?id=195 and enter OFFFER CODE: BARAK *For a limited time only; while supplies last; cannot be combined with any other special offer.