5 Ways To Love Matzah After Passover
I think matzah is delicious, and I will come out and confess that Pesach isn't the only time of year I keep a box handy. Here is a quick breakdown of my top five matzah spreads, and the best time of year to try them. Read More
By Jason Diamond / March 29, 2011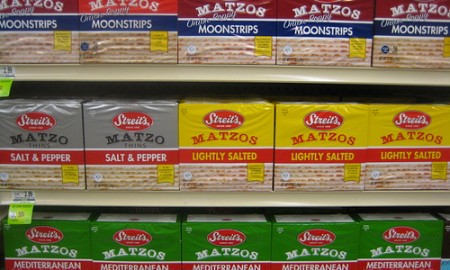 Jewcy loves trees! Please don't print!
I know you probably get the same constipation I do after several days of eating nothing but our famous unleavened bread for several days at a time, but seriously, is it really that bad?
I think matzah is delicious, and I will come out and confess that Pesach isn't the only time of year I keep a box handy.  Here is a quick breakdown of my top five uses for matzah on the days that you aren't waiting for the Angel of Death to pass your home.
1. Matzah and honey butter.
This is a summer treat, and is made simply by mixing a littler fresh butter with some honey.  If you want to get wild and crazy, top it off with an apple.  It's crunchy and delicious.

2. The Notorious H.I.L.L.E.L
If I created something as delicious and amazing as the sandwich, I wouldn't want it to be remembered solely by how incredibly bitter things have been for the Jews.  Make me a second sandwich, and make it tasty.  Gimme some sliced pepper jack cheese, avocado, sliced carrots, sprouts, and add a little homemade horseradish mustard to keep it real.
3. The King
Yes, another matzah idea with peanut butter.  This will catch on!
Take two pieces of matzah, put some peanut butter, sliced bananas, and potato chips on it.  Put in on a hot skillet for about 30 seconds, and stock up on napkins.
4.  Jewish Pizza
Marinara sauce, fresh mozzarella, a little basil.  Put this in the oven for just long enough to have the cheese melt, and you should be good to go.
5.  Matzah salad
Matzah as croutons?  We say yes.