The Big Jewcy: Wise Sons Deli – The Best Damn Pop Up Delicatessen In San Francisco
Wise Sons Delis, a once a week pop up restaurant offering a curated menu of Jewish deli classics. Read More
By Jesse David Fox / June 15, 2011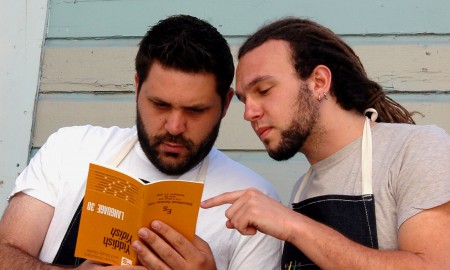 Jewcy loves trees! Please don't print!
I grew up on Long Island – went to the college that at the time held the dreidel spinning record – moved to New York City and then Los Angeles, so in my very skewed opinion, my current home, San Francisco, is not a very Jewish city. Well at least until a few months ago when an oasis materialized in an unassuming coffee shop near the 101 overpass. It's there Evan Bloom, who looks like a Jewish-version of the Brawny paper towel man, and Leo Beckerman, with dreads he's been growing since his Bar Mitzvah, hold court over Wise Sons Delis, a once a week pop up restaurant offering a curated menu of Jewish deli classics.
The two grew up in the LA area, where schmeres and schmaltz was readily available. College brought both to the Bay Area, where they eventually met at Cal-Berkeley's Hillel. It was there they started cooking together and observing the community building power of food. Yet, after graduating they went out on the career paths of kids raised hearing doctor or lawyer expectations; Evan got a job at a construction management firm and Leo moved to DC to work at a non-profit.
Then with Leo back in the Bay, Wise Sons was born out of meat-based necessity. San Francisco had a couple Jewish delis fail within in the last couple years, leaving a 13oz (the insane standard weight of an overstuffed corn beef on rye) void in some Semitic stomachs. What started as a home project to finally get some good pastrami, grew quickly into a mini-phenomenon.
Evan and Leo make everything themselves at Wise Sons from the bialys to the sauerkraut to the black and white cookies. Still, like any Jewish Deli worth its (Kosher) salt, the star is the pastrami. Theirs is the real deal – smokey, peppery, beautifully unctuous -and since this is San Francisco the cow it came from was assuredly given a proper upbringing. Though, it took me three consecutive visits before I was able to actually try it, as they always run out quickly. Out-the-door lines have been a fixture of the pop up since very early on. Obviously, this was something this city was looking for, especially done with this level of integrity and fun.
For the Jews like me, it's a taste of home or at least hometown. However, friends are bringing friends that are bringing other friends and the Jewish concentration has dropped. Leo looks towards the second most popular food for Jews as a comparison, "you go into a Chinese restaurant, not everyone in there is Chinese." This is important for Leo who wants to be able to educate his unfamiliar customers. He recalls the first week having to teach the uninitiated what a blintz was. A blintz!
Leo explains their popularity as part of a greater trend, "People are getting more excited about food with history. Whether it is the food you ate as a child or the food your friend ate as a child." With every dish they are exploring the history the Jewish Deli. Partly, that means serving the right food but also that means creating the right environment. They look back to the past when delis in America represented a place where Jews from all over Europe would come together in one restaurant – a chilled melting pot of borscht. If you go to Wise Sons Deli on Saturday you'll see something similar.
For many Millennials, traditional Jewish food is holiday food so, sadly, as many distance themselves from the religion, they also lose ties to the cuisine and the culture. Leo and Evan are trying to reverse this trajectory as much as they can. The centerpiece of this campaign was a series of Seders they hosted this passed Passover. They brought together 110 guests over two nights for a dinner where the fish was gefilted and the motzah was properly balled, though billed with a wink as "probably not as good as your grandmother's." Many in attendance hadn't been to a Seder in awhile and some hadn't ever (15% of the guests were goy). By all accounts, people loved it – it was a night different from all other nights – and if I had to guess, much of the time was spent raving about the food, seeing if guest one knew anyone who went to camp with guest four and trying to set up guest three with guest twelve.
With the Seders and the deli the hope is promote the reclamation of a withering culture. Leo likes to reference a saying he gleaned from his antique collecting mother, "My grandmother bought it, my mother through it away, and I'm buying it again." Every Saturday, there are legions of loyals waiting to do just that. Hell, I'm just happy I don't have to get on a plane to buy black and white cookies.