Jewish Mothers (Fathers) Cooking: Tropical Dessert Charoset and Charoset Making Tips
Like many families, my dad and I sit down and make charoset, the traditional dish reminding us of the slave's mortar, every Passover. Unlike many families, we make about 10 different varieties. It takes a good chunk of our day and multiple family members' help. Read More
By Naomi Zinner / April 7, 2011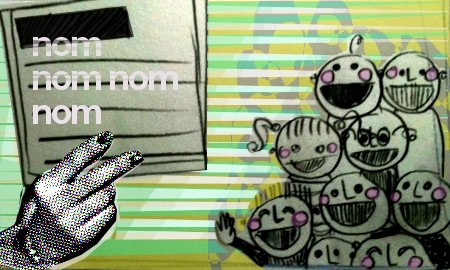 Jewcy loves trees! Please don't print!
Like many families, my dad and I sit down and make charoset, the traditional dish reminding us of the slave's mortar, every Passover. Unlike many families, we make about 10 different varieties. It takes a good chunk of our day and multiple family members' help.
Bored with traditional charoset twenty years ago, my dad set out to find an innovative way to experience Passover and bring new life to an old tradition. Combine this with my dad's passion for dried fruits and nuts and you get a perfect charoset storm. My father loves food cooperatives; he organized and managed them for about 15 years. First in the form of a small buying club in St. Louis while at Washington University, eventually expanding to 3 storefronts. Then, in Chicago creating a whole sale cooperative contracting with local and international growers, all while supporting local low-income communities. Finally, working in the DC-Maryland area, where he lives now, on a consulting basis.
Finding innovation with something as simple as charoset is really my dad in his element.  Whatever he does in life, it's with cleverness, panache, and personality. I've tried to adopt this approach, not only to my secular life, but also to my Jewish identity. Why be satisfied with something that's stagnant, when you can continually strive for the interesting, unique, and thought provoking.  Especially in Judaism, we should continue to challenge ourselves and find new and interesting stories, music, ethical questions to discuss… and recipes!
Usually on Passover, we make up a few charoset recipes ourselves. We also have standard delicious ones that we make from the awesome Gloria Kaufer Green's "Jewish Holiday Cookbook". Our copy has charoset stains dating back to its autograph from the author in 1988. Encourage you to check this awesome book out.
The charoset recipes we love the most from this book are:
Yemenite: Features cayenne, ginger, coriander, sesame seeds
Moroccan Date Balls (*my dad's favorite): This charoset is made from dates and figs, then rolled into little 1 inch balls. We like to roll them in powdered sugar, dark cocoa, or coconut. Unique charoset in that it will last all of Pesach!
Israeli: Uses oranges and bananas
Here are some tips for charoset making- Zinner style!
–Good ingredients=good charoset! Make sure you sample at the co-op before you buy. Try Black Mission figs, Khadrawi, Deglet noor, and Halawi dates. Surprisingly, dried fruit should actually be moist.
-Recipes don't need to be followed so closely– this isn't baking.  In fact, we never actually measure things out. Adjust to individual taste!
-Invest in a good food processor. Ours is the 1980's model, but still going strong. New doesn't mean good. Some things you may consider chopping up into a smaller size before you put them in the blender- dates, figs, prunes.
-Don't over blend. If you can't see the individual ingredients, it's too smooth. We're not making jam, people.
-Careful with adding liquids. Try to add them towards the end of the blending so they don't accidentally cause your mixture to overflow.
-Use labels! There's no way you'll be able to remember all 10+ varieties. Include key ingredients (ie: cayenne, chocolate, bananas). This is also an amazing conversation starter for your seder table.
-Make enough so you have leftovers throughout Pesach.
Original Zinner family recipes:
Tropical Dessert Charoset:
2 tart, green apples; peeled, cored, and cut into large pieces
1-2 handfuls chocolate chips
½ cup almonds and walnuts
1 handful unsweetened coconut flakes
2 teaspoons cinnamon
1 tablespoon honey (optional)
1-2 shots Kahlua (*note: our family is not strict about Kahlua not being Kosher for Passover. If you are, substitute with comparable delicious Kosher liquor)
Put the apples, chocolate chips, nuts, and coconut through the food processor. Do not over process; make sure the mixture is still chunky. Add in cinnamon, honey, and Kahlua; mix by hand. Adjust to taste!
The Ultimate Co-Op Charoset:
1 handful dried peaches (preferably no sulfur added)
½ cup shelled pistachios (un-dyed, unsalted)
1 tart, green apple; peeled, cored, and cut into large pieces
5 dried apricots (no sulfur added)
5 pitted dates
1 teaspoon cinnamon
1 tablespoon honey
A dash Pesach red wine
Cut up the peaches, apple, apricots, and dates into chunky pieces. Combine in the food processor. Add in cinnamon, honey, and wine; mix by hand. Adjust to taste!