Hands Off My Chocolate From The Bald Man
While I respect your right to your opinion, I get very angry when you try and say that certain foods from the Holy Land help fuel oppression. In my opinion, things like good food can only bring peace and joy to the world. Read More
By Jason Diamond / August 10, 2011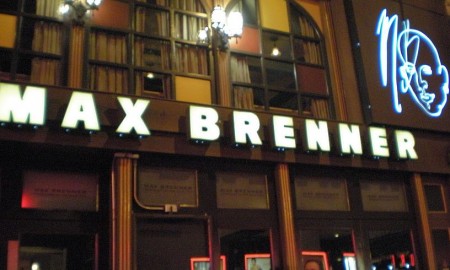 Jewcy loves trees! Please don't print!
Dear people who protest delicious things from Israel,
while I respect your right to your opinion, I get very angry when you try and say that certain things from the Holy Land help fuel oppression.  In my opinion, things like good food can only bring peace and joy to the world.
So, just like I stated several months ago in regards to protests of Sabra hummus, I am going to issue the same exact warning: if I am having one of those tasty-as-all-hell hot chocolates from Max Brenner, and somebody starts protesting that, I will get violent.  I will finish drinking my beverage, and then I will begin pummeling you.  I recognize these protests are confined to Australia for the time being, but I beg of you, people who would rather picket establishments that probably employ 98-99% non-Israelis, and are so much less harmful than arms manufactures that you should probably spend your time being angry at, please don't make me breach my pacifist ways.  I am a 220 pound Jewish man who gets really weird when his blood sugar is low, and I will lash out if you bother me while I enjoy my Max Brenner