A 15-Year-Old Yeshiva Girl Tackles Music Reviews
We love to read Pitchfork, Impose, and Brooklyn Vegan for most of our music news, but those guys listen to music for a living, and have obviously developed specific tastes.  While we love long, well-written proclamations as to why the … Read More
By Tessa G. / March 18, 2010
We love to read Pitchfork, Impose, and Brooklyn Vegan for most of our music news, but those guys listen to music for a living, and have obviously developed specific tastes.  While we love long, well-written proclamations as to why the newest Diplo remix of Neon Indian covering a Yeasayer song is the greatest thing since the time Panda Bear re-remixed Diplo's work on a Beach House song, we think it's time for a fresh point of view.  
Introducing that new point of view: 15-year-old Yeshiva student, Tessa G.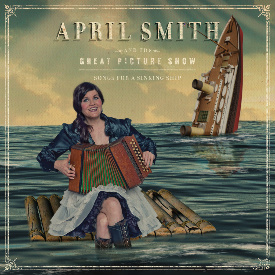 April Smith and the Great Picture Show
Songs For a Sinking Ship
Self-made and self-popularized, April Smith seems to get her kicks from retro beats and polka style odes to happy-go-lucky love and sad, sad hurtful love. The first song on the album, "Movie Loves a Scream", mixes what sounds like a 40's jazz band and a ukulele. It's a little daring, but it actually makes it a somewhat catchy, toe tapping song. The next few songs are comprised of a polka sad song, an oldies inspired slow song about a presumably "drop dead gorgeous" person, and the list goes on. The songs are pretty much either sassy and upbeat, or sad ballads. April has a sweet yet strong voice that owes a great deal to older-era music that charms, but lacks depth and the ability to be listened to without getting bored of it after a few minutes.
S/T EP 
Self-released
First thought… a whole ablum-about Los Angeles?  JEEZ.  Well the first song is literally just , surprise surprise: some repeating French monologue and mellow tones in the background. A wee creepy, but if that's what the cool kids are doing these days why not? For one thing, it sounds like a song in the soundtrack to an indie tragedy about depression and death and destruction and dying puppies and whatnot. The next song: more of the sad stuff. And of course deep, woeful violin chords, with xylophone. This turns out to be sort of mellow and lament-alicious. The album itself sounds a little repetitive and almost like an introduction to a song, not a song itself. Sometimes drab, and bad mood inducing.
New Home
Ahhh!  It's that guy who prides himself because all his lyrics are a play on words. The music incorporates violin and guitar strumming.  There's even some accordion.  The lead singers voice is slightly high and smooth, and doesn't prove to be falsetto heavy.  In fact, his voice is kind of rustic and natural sounding. Overall, the music sometimes feels like it was born in the backroom of a tavern frequented by sailors, a little nautical and invoking the spirits of long dead depressed musical pirates. Other songs are almost nursery rhymes, soft and sweet and under not too much foreign influence other than harmony of the instruments. This album has some nice sparkly gems, and a few songs that just make me wanna say "ARRRG" and bury some treasure.