6 Baseball Books to Read Instead of Watching the Major League Baseball Playoffs
My predictions for the final outcome of the 2010 MLB season are dire.  Either: The Yankees will surge, and once again, win it all. It will end up being a mediocre World Series match-up between the Tampa Bay Devil Rays … Read More
By greenman / September 28, 2010
My predictions for the final outcome of the 2010 MLB season are dire.  Either:
The Yankees will surge, and once again, win it all.
It will end up being a mediocre World Series match-up between the Tampa Bay Devil Rays and the Cincinatti Reds. (Sorry to fans of these boring teams for insulting them)
Either way, for the 30th year in a row (I was born in 1980, do the math), my team will once again not be playing for the title.  So any way you look at it, I end up spending my October mired in jealousy while some other teams vie for the title of "World Champions".
To combat my gloom, I spend a few days before the playoffs begin, pawing through baseball books to take my mind off the current (losing) season, and this year has been a particularly good one for my personal library/terrible one for my favorite team.
My friend Dan helped me with a few of his own personal picks as well.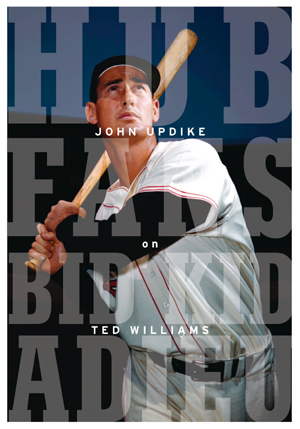 1. "Hub Fans Bid Kid Adieu" by John Updike (Library of America)
If you ever meet me, and we get on the topic of sports and sports writing, I will inevitably bring up John Updike's famous piece on Ted Williams' last game ever.  (Which incidentally happened 50 years ago this week)
While I'm not a Red Sox fan, I do love Updike, and even though I never got see Williams' hit, I've been told he was the greatest pure hitter ever to play the game.  All of that fuels my love of Updike's writing, but it's the fact that he could dedicate so much beautiful prose to a team that (at the time) was utterly unremarkable, and the poetry that is Williams hitting a home run at his last at bat, makes me want to  read this over and over again.
The Library of America had the good sense to put the piece into book form, and gave it what I like to call "The Chipp Kidd Treatment," which mean they got the best book designer in the game to give this masterpiece the beautiful cover it deserves.
(Jason Diamond)
2. The Baseball Talmud by Howard Megdal
I've always been under the assumption that Jews and baseball go together like Jews and any other stereotype you can think of.  If that's true, Howard Megdal's book is a who's who of Jews who have seen the mountain top, and grabbed onto it: a list of the greatest Jewish baseball players at their respective positions. (Jason Diamond) 3. Bad Sports: How Owners Are Ruining the Games We Love By Dave Zirin They jack up ticket prices. They demand taxpayer dollars for new stadiums at the expense of city infrastructure. They're the billionaire owners of American sports franchises who ruin our favorite teams, and it feels like all we can do is keep buying their product. Zirin, a columnist and radio host who has made a career covering the intersection of sports and politics, explains what's wrong with sports owners, what's right, and what we can do about it. (Dan Greenman)

4, 5, and 6.  Clemente: The Passion and Grace of Baseball's Last Hero By David Maraniss The Last Hero: A Life of Henry Aaron By Howard Bryant Willie Mays: The Life, The Legend By James S Hirsch These biographies of three of baseball's greatest players all have something in common: they examine what made each a truly essential human being. All were racially transcendent players during the civil rights era; Mays made fans everywhere his Giants played, Clemente was the first Latino star in the big leagues, and Aaron broke the game's most prized record in spite of numerous death threats. (Dan Greenman)