A Punk Jew Stew
Jesse Mann and Evan Kleinman are the two filmmakers behind the upcoming series Punk Jews. We caught up with Jesse and Evan to discuss what those two words mean to them as well as the subjects of their series. Read More
By Jon Reiss / March 3, 2011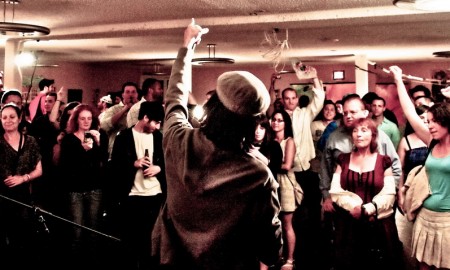 Jewcy loves trees! Please don't print!
Jesse Mann and Evan Kleinman are the two filmmakers behind the upcoming series Punk Jews.  We caught up with Jesse and Evan to discuss what those two words mean to them as well as the subjects of their series.
Your series is called "Punk Jews" tell me what the word "punk" means to you
Evan Kleinman: To me, it means basically anything in the revolutionary spirit.  Anyone doing something that's pushing the boundaries, and creating something inspiring and empowering.
Jesse Mann: Punk for me is DIY, making your own rules, creating and being responsible for your own culture.  You wouldn't think that would so much jibe with religion but, these people are re-interpreting their religion and being responsible for their culture even though they're already inside of a culture that has a long heritage with its own rules. 
Was Punk rock important something that was important to you guys prior to the film?
JM: Definitely, as a kid I growing up on Long Island, I found the DIY punk scene and it was entire world of expression for me.  Also hanging out with people who were interested in politics and social change, making a difference in their community, it was incredibly influential on who I am now.
EK: I started getting into the local punk rock scene around 15 and very active in it all the way through my early 20's.  Besides my Jewish identity, it's probably played the biggest role in my life as far as shaping the person who I am today.  That's what gave me my drive and fed my passion.
Do you guys feel you've had to reconcile those two parts of your life, punk and Judaism?  How?
JM: I grew up in a house where my mother converted to Judaism and my dad started studying in ashram in upstate NY, so I had a pretty crazy upbringing, because there were just all different types of religion going on. I never really felt like I fit into any type of Jewish community. This project has actually been a way for me to connect more.  I was always a sort of strange Jew to begin with that it wasn't until I found other people who didn't exactly fit the mold, that I could actually ask questions.  I felt more comfortable asking questions someone like YLove (Rapper) about Judaism than a rabbi.
EK:  I had a very traditional upbringing the conservative world.  Where Jesse felt like he didn't fit in, I felt almost like I was being forced to fit in.  I went to a Hebrew day school, I went to synagogue every Saturday. I had a lot of good friends and the community was very warm and inviting, but I kind of had a bit of emptiness around it because a lot things didn't make sense to me.  I had so many questions and not enough answers.  This led me to almost abandon my Jewish identity at one point.  That's about where the punk rock community came in and ended up filling that void.  It probably wasn't until around college that I started to want to find empowerment within my own culture. Jesse and I became friends and that conversation would come up a lot. We started to do research and discovered this entire world.  We met YLove who took us to Cholent where we met all these people doing incredible things with their heritage and spirituality.  That's where the project was born
Tell me about some of the subjects in Punk Jews?
JM: One of the stories is Y-Love taking us into the Jewish African American community and speaking to the Jews of color community at large.  He takes us to an black Jewish community that lives in Brooklyn and helps them prepare for Shabbos.
EK: Another story is the comic book rabbi, Simcha Weinsten who wrote a book called Up Up and Oy Vey, which talks about the parallels between Judaism and comic book hero's. We have the punk rock band Macea Oy.  We have the Yoga Yenta.  We have a lot of stories.
Visit http://www.punkjews.com/ for more information, trailers and upcoming events.