Artist Context: August Exhibits Not To Miss Before They're Gone
If you're museum hopping this month, we've got some tips for you. Read More
By Margarita Korol / August 2, 2011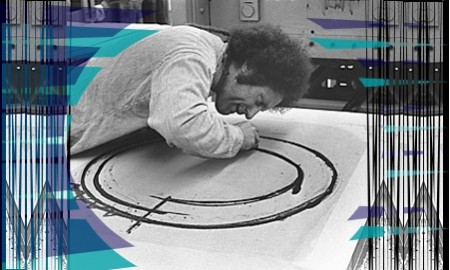 Jewcy loves trees! Please don't print!
The fruit of good art lies in its relation to its greater context. Whether in regards to materials, environment, or the artist's roots, speaking to the bigger picture takes art out of the ghetto and into the greater conversation. Several exhibits on their way out this month (or thereabouts) in New York fetch the aesthetic eye, but also the feeling heart in offering poignant perspective into the artists' social passions.

The Met: Richard Serra Drawing: A Retrospective
Born to a Jewish mother from Odessa and a father from Mallorca, god of public art Richard Serra is best known internationally for his unconventional metal sculptures. Influenced by a familiarity with raw materials through his father's work as a pipe-fitter as well as his own in California steel mills in the 50s and 60s, the consciousness around the relationship between the various metals he chose for sculpture and their relationships to unique environments and sculptural weight shows great dedication to context. This is an understatement in considering his public works' often rocky relationships with the public, including the controversy in the 80s surrounding his arched sculpture in New York's Federal Plaza to which, when complaints about its obstruction of pedestrian traffic brought about an outcry to move it, he responded, "To remove the work is to destroy it." This is the last month to get a dose of context with this first retrospective of Serra's deliciously minimalist sketches that allow a new perspective around his 3D works. Also, check this 2008 Guardian interview with Serra for a glimpse at the fireball spirit only matched by his New Yorker bro Tony.
The exhibit closes August 28.
MoMA: Boris Mikhailov: Case History
Set to the industrialized Ukrainian backdrop of his and my hometown, Kharkov, Boris Mikhailov's photographic exposition at MoMa has already burned images of the post-communist 90s terrain on the retina of thousands of visitors since late May. Curator Eva Respini introduced in an interview with Mikhailov, "Arguably his most challenging project, it explores the deeply troubling circumstances of bomzhes—the homeless—a new class that emerged after the collapse of the Soviet Union in 1991." Another artist deeply involved in the context of his subjects, this time instead of industrialized metal, industrialized individuals, Mikhailov does work to discern truths that actually make up reality–after all, claiming an oxygen-free environment will not stop the patina from forming on Serra's steel.  In the post-censorship Kharkov in which photographing the underbelly of Soviet life is not illegal, Mikhailov's important work not only serves artistic purposes, but also does social work in bringing attention to Ukraine's largely unremedied homeless phenomenon. Also of note is his interaction with the medium of documentary photography and his use of the artistic license to instill metaphor to improve communication to the audience, exhibiting his individual responsibility to the outsider viewers and the insider Kharkovians.
Case History runs through September 5.
Museum of Jewish Heritage: Last Folio: A Photographic Journey with Yuri Dojc
Here's a photographer following a similar endeavor as Mikhailov, returning to his hometown to chronicle change but, given the subject of once-vibrant Jewish communities in Slovakia, is distinguished with a more archaeological eye. Yuri Dojc (dubbed Judaism's John Edward by his son) has managed to create what Time has called "A living monument to the Holocaust." His work as an artist has done justice in giving a voice to the voiceless.
Don't miss this exhibit that closes August 9.