Bad Weekend For Jewish Sports Fans
I guess this weekend we had the Jewish "Say it ain't so, Joe" moment Read More
By Jason Diamond / December 12, 2011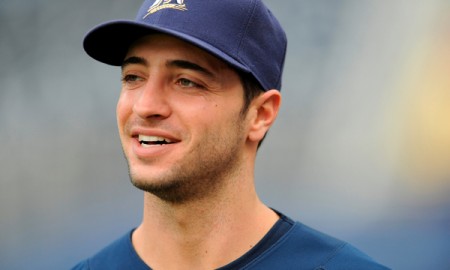 Jewcy loves trees! Please don't print!
I guess this weekend we had the Jewish "Say it ain't so, Joe" moment, as Ryan Braun went from one of the highest highs in baseball (winning the MVP), to the lowest low (testing positive for performance-enhancing drugs a few weeks later).  Braun, the half-Jewish (father's side) star of the Milwaukee Brewers has denied the accusation, but until it's finally settled, I'm going to have to stand with Marc Tracy at Tablet by "re-examining my need for my sports heroes to be Jewish, and for my Jewish sports heroes to be mensches."
Trying to put my disappointment behind me, I did what I love to do on Sundays: drink beer and watch football with my friends.  It's a relaxed affair, with a "no sports yelling" rule in effect thanks to my fiance.  This weekend, my Chicago Bears weren't just going to Denver to play the Broncos, they were becoming part of the Tebow Legacy, the Tebow Magic, and Tebow Time.  Would the wounded Bears walk into Denver and put a stop to the Messianic-like rise of the most loved and hated man in the NFL?  No.  They wouldn't.  They'd lose in overtime after a turnover led to a Broncos field goal.
Alright, I can handle losing.  I'm a Chicago sports fan.  That means for the most part, losing is what I'm used to.  But then Tebow had to look right into the camera and make sure that the first person he had to thank was his Lord and Savior, Jesus Christ.  Even though by all accounts Tebow had (another) okay game against a team that is, at best, at 50% healthy, Jesus really was the reason for the victory.
I've said my piece about Tebow in the past.  I respect that in a game filled with showboaters and bad role models that Tebow is an excitable guy who seems to walk the straight and narrow.  But at the end of the day, and at the end of a really long football game, it's still pretty hard to stomach.
Obviously the two things are unrelated, but come Monday morning as I'm nursing a bad hangover brought on by a really splendid happy hour, I can't help but think that this is the only bad sports weekend I can remember that was caused first by the fact that I'm Jewish, and second because the states of the games I love are in such poor shape.