Bail Out of the Bailout
No more rules.  Rules suck.  Rules are for the weak.  Tlkeajtughajer;eqwujgahhkgjadlsgfdasr;ra;.  That's what a sentence looks like without rules. The money experts have fucked up.  And now we're rescuing them.  And it's comical to think that the person applying for the … Read More
By Brian Frazer / October 9, 2008
No more rules.  Rules suck.  Rules are for the weak. 
Tlkeajtughajer;eqwujgahhkgjadlsgfdasr;ra;. 
That's what a sentence looks like without rules.
The money experts have fucked up.  And now we're rescuing them.  And it's comical to think that the person applying for the loan is being blamed.  It's akin to a doctor taking out your pancreas instead of your appendix and then blaming the patient.  If your business is to loan money, then do your homework, don't be greedy and don't loan it to people who might not be able to pay it back.  A bank isn't a pizza place.  You don't need to say "yes" to everyone.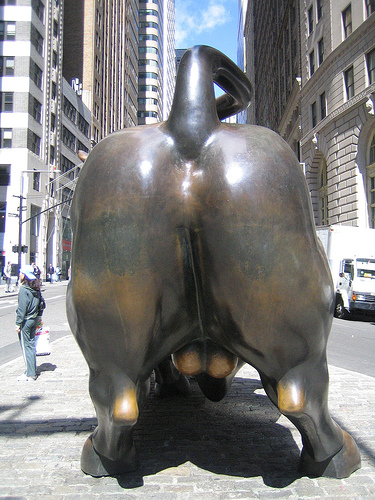 So what can we do so this never happens again? 
Many child molesters have to wear electronic monitors so we know his/her whereabouts at all times.  I think all bailed out bankers need to wear shock collars around their necks and every time they try to loan out money they get 350 volts launched into their carotid arteries.  Maybe then they'd be careful.  And since we are going to bail out the banks – which with this spineless bunch of Congressional pussies was a foregone conclusion even before it was a foregone conclusion – we need to make sure that none of these people who were responsible for our economic meltdown are allowed to ever work in the banking industry again.  You get one chance to bilk people out of their life-savings and retirement dough.  For crying out loud, we don't even allow individuals to file for bankruptcy in this country anymore because that would inconvenience the predatory credit card companies (hello, Capital One!  Thanks for the 23.5% offer but I can get a better deal from my bookie) and the health care industry.
Accountability is the only cure for this catastrophe. However, just as in the Enron disaster, the fat cats will exit the building with fat pockets.  The hell with that.  Liquidate their assets and property until they're as poor as the poorest person they screwed over. 
Although there is another option. 
Let's give the $840 billion to the people and have the banks apply to us for money.  Something tells me we'll be a lot more careful with it than the assholes were.
Brian Frazer, author of Hyperchondriac, spent the last week guest blogging on Jewcy.  Want more?  Buy his book!