The Berenstain Bears and the Jewish Question
I'm a bit traumatized to learn that all these years I may have been lied to about whether or not The Berenstain Bears are Jewish or not. According to Book Bench: "Then I noticed something odd about this incarnation of … Read More
By Jason Diamond / October 12, 2010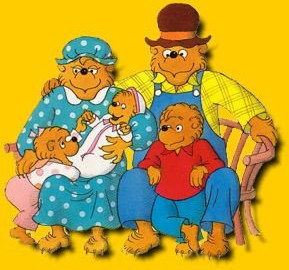 I'm a bit traumatized to learn that all these years I may have been lied to about whether or not The Berenstain Bears are Jewish or not.
According to Book Bench:
"Then I noticed something odd about this incarnation of the Berenstains: they'd become practicing Christians! The golden rule is just the kind of sensible, even-handed moral that I remember from my old favorites, but in the new app, the universal theme is tied directly to a Biblical source: Matthew 7:12. "Golden Rule" is part of the "Living Lights" series of Berenstain books published by Zonderkidz, a division of Zondervan, a Christian publisher based in Michigan. (The app is produced in association with Oceanhouse Media.) Other titles in the series include "The Berenstain Bears Say Their Prayers," "The Berenstain Bears Go to Sunday School," and "The Berenstain Bears: God Loves You."
I should have seen the writing on the wall.  I figure that Jewish men liked a little color in their wardrobe like Papa Bear seems to, and even their names sound like how my Israeli family refers to me in bad English ("Cousin Jason"), and of course they share a last name with the guy who performed my circumcision, but there was something a little, I dunno, goyish about those bears.