The Big Jewcy: Jeff Newelt, Publicist/Social Media/Comics Editor
If there is a good party going on in New York, there is a pretty good chance that A) Somebody there knows Jeff Newelt AKA JahFurry B) Jeff Newelt is there. C) Jeff Newelt is in some way involved.  Newelt … Read More
By The Notorious Avi / June 7, 2010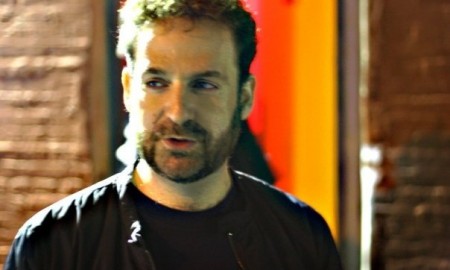 Jewcy loves trees! Please don't print!
If there is a good party going on in New York, there is a pretty good chance that A) Somebody there knows Jeff Newelt AKA JahFurry
B) Jeff Newelt is there. C) Jeff Newelt is in some way involved.  Newelt is THE connector in New York City.  He's the do-it-all guy who is pretty much Malcolm Gladwell's wet dream.
You and Harvey Pekar are tight buds.  How did that end up happening?
I've always been good at eventually hangin' with my favorites, a sort of compulsion to prove myself interesting to them, not just bask in another's radiance, but to jam with them and have them go "NICE!" at some solo I popped out. Who those other favorites are can be read about here and here, but in this case Harv and I became buds because I'm his editor on his autobiographical webcomics series The Pekar Project and we talk almost every day. He reads me scripts over the phone, we talk about jazz… the routine is he calls me three times, 8am, 9am, then 11:30, I wake up at noon, call him back at 1pm, and talk to him at 3pm because he's so ferociously luddite that he doesn't even have an answering machine, let alone email.
One day he asks me "So what kind of Jew are you?"  I tell him, "Well my last name is from Vienna." And he goes, "Vienna!? Let me tell you something…" and proceeds to gimme a lecture on how certain Jewish families say they're from Vienna but are really "Galitzianers." The next day he calls me and goes "I got a story for you… so I'm talking to you…" and that became "Legendary Vienna" illustrated by Joseph Remnant. How I connected with Pekar in the first place: I first met Harv when I interviewed him for Penthouse and then as comics editor of SMITH Magazine I worked with two of Pekar's artist collaborators, with Josh Neufeld on A.D.: New Orleans After The Deluge and with Dean Haspiel on Next-Door Neighbor, for which Harvey wrote the story "The Next-Door Neighbor I Didn't Know" After NDN finished its run, Dean suggested to Harvey that he talked to me about possibly doing comics for SMITH and that's where we are today.
So how many titles do you officially hold?
Officially? I guess "Duke of Arseholes" doesn't count,what they called me in England on my year abroad… let's see, I hold 6 official titles, comics editor of SMITH, Royal Flush, and HEEB Magazines; editor of The Pekar Project, Minister of Hype for the webcomix collective ACT-I-VATE.com, and Programming Co-Director, MoCCA Art Fest. I'm also a "pr consultant" "reggae dittier" "writer" I don't know if those are titles or descriptions tho.
On a good night, how many parties do you go to?
Well if its a really good night, then its a really good party and I don't have to schlep to go somewhere else. It's not about how many, and I learned long ago that its better to go deep into one soiree than flit about like a shmendrick in slippysocks.
What's the best party you've ever been to?
Oooooof. My inner Jewish Grandma doesn't like to choose between favorite grandchildren or parties. I thrown a lot of parties, I treat it as an art and as alchemy. This might sound douchey but the best parties I've ever been too I've thrown or co-thrown. And those are the Wellington Hall May Day Ball, London 1992; The Rub-A-Dub Jazz launch party, Metropolis Cafe, NYC 1994; The Art Directors Club Gala 1998, NYC, the Testament/Shooting War Team-up Party at The Happy Corp, 2006, and the PopCult/Paul Pope/Eclectic Method party at SD Comic-Con 2009.
iPhone or Blackberry, and why?
Blackberry because I am on a computer enough all day that i don't need the big screen. What I do need is the ability to write fast, and I can't write fast and well with the iPhone keypad…