Jewcy Interviews: Vanessa Davis – Comic Artist/Writer
The reason that Make Me a Woman, the collection of comics by artist and writer Vanessa Davis, didn't make it into our top art books of 2010 is simply because we felt the book was in a class all of its own. Read More
By Jason Diamond / January 3, 2011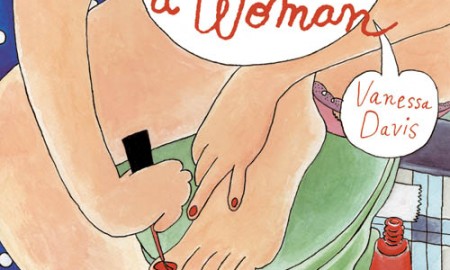 Jewcy loves trees! Please don't print!
The reason that Make Me a Woman, the collection of comics by artist and writer Vanessa Davis, didn't make it into our top art books of 2010 is simply because we really felt like the book was in a class all of its own.  (And also we had this interview lined up…)
The handling of the insanity that is Jewish family life, the awkwardness of growing up, and questioning R. Crumb has never been drawn so well, and the Davis canon is well represented in the beautiful assemblage.
When did you start drawing comics?
I started in 2002 or 2003. I was living in New York and had no room to do any of the art stuff I'd done before. Also I was becoming more aware of artsy comics. So I tried it out. And I met a bunch of other cartoonists living in New York and got sucked in.
You don't overdo Jewish stories and themes in your comics, but you don't shy away from them either.  Has your Jewish background always been something you drew inspiration from?
No, I never really thought I'd write about being Jewish. I grew up in an all-Jewish community and just never really thought of it as one of my distinguishing characteristics; it was something I very much took for granted. When I got the opportunity to write and draw the column over at Tablet, I was nervous to write about my relationship with Judaism, and my identity as it related to Judaism. But then I got started and it opened up something in my brain, probably because of where I am in my life, and it became this very pertinent topic for me. But I think it comes off casual because I think of it as just a part of me, not the whole thing.
In the last 25 years, comics and graphic novels seem to be edging up to the novel as the popular way to tell stories, why do you think that is?
I think it's more relevant to be "popular," and comics are a popular medium. I studied fine art for a long time, and I love art, but I don't know that the fine art world works best as a place for the most innovative thinking. This might not address your question specifically, but I think that people want to hear idiosyncratic, authentic voices, nuanced concepts. I'm by no means an expert on modern literature but from what I can tell, people want to connect, learn, with their past, the truth, their places. So perhaps people are drawn to comics for the same reason I was: it's got a lot of uncharted territory so it's an extremely exciting field to work within.
I notice that the Cheri and "Let's Party" t-shirts show up a few times in the book.  Are there other little things you scatter throughout your comics that I wasn't picking up on?
I didn't include them or anything as any type of little joke, or anything like that. They're just some of my favorite t-shirts. I am really into details of clothing and furniture and what people look like and things they say. Part of my impulse to make comics is to preserve and process all of these details.
You draw a lot in black & white.  Any specific reason?
The black and white drawings are mostly from my sketchbook. When I started drawing comics, I just drew in my sketchbook because I didn't know where to start. Then I just really liked working that way, so I still do it a lot. Also, when I first started, which wasn't very long ago, but there weren't a lot of opportunities to print comics in color, and you had to really know computers to post things online. Before I knew what a "webcomic" was, I thought I'd post daily comics on Livejournal. But at the time, you couldn't post pictures on there. So the medium has definitely been the massage, for me. I didn't even have my own computer until like, 2 years ago.
What's next for you?
I still have a lot of stories to write, so I'll probably do that!