The Big Jewcy: Rachel Fershleiser – Literary Community Organizer
With the publishing world in such a state of flux, it needs people to mobilize the writing communities that provide the foundation for the world of letters to advance, and Rachel Fershleiser is doing just that. Read More
By Kylie Jane Wakefield / June 14, 2011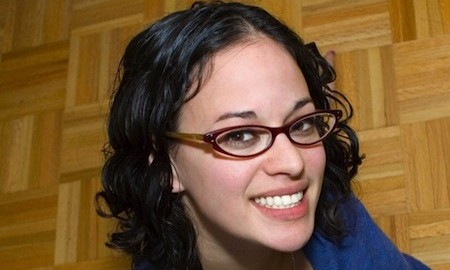 Jewcy loves trees! Please don't print!
Call us Socialists if you want, but we feel that there is truly power in being a force behind organizing your community.  From the neighborhood you live in to the religious community you might be involved with, a community is what you make of it; and the more you put in, the more you get out of it.
With the publishing world in such a state of flux, it needs people to mobilize the writing communities that provide the foundation for the world of letters to advance, and Rachel Fershleiser is doing just that.  This maven of letters has worked with one of New York's leading literary institutions, as well as being the brains behind a popular literary phenomenon.  But according to Rachel, she hasn't even gotten started yet.
How did you become involved with Smith Magazine and Housing Works?

I worked in book publicity at big publishing houses for a few years, and it was never a great fit. I love books and spreading the word about things I'm excited about, but really only things I'm excited about. I curse too much. I can't walk in heels. So I quit publishing, got a nanny job, and started looking for alternative ways to channel my literary energy. Around that time Larry was starting SMITHmag.net. I needed an outlet; he needed people who would write for free. And I started volunteering at Housing Works because it was bookish and socially conscious and around the corner from my apartment. That was all about 6 years ago.
What do your jobs at those places entail?
I worked my way up the ranks at Housing Works: volunteer, part-time bookseller, full-time bookseller, and then running all the events and PR. I throw concerts, readings, panels, parties, etc, plus some marketing and do a ton of social media. Originally it was like "fine, whatever, if you want one of those tweetsie things, go ahead" — now I have over 16,000 followers on Twitter, Tumblr, and Facebook and I think everyone agrees it's been great for our awareness and community loyalty. Meanwhile I was doing a bunch of little editorial odd jobs for SMITH when the six-word memoir idea started to take off. So suddenly there were 5 books, and I was an author/bookseller. Talk on NPR in the morning, unclog the store toilet in the afternoon.
How does your Judaism fit into your careers, if at all?
I can get away with anti-semitic jokes? I know not to book author events on Rosh Hashana? I can commiserate with all the other creative women uncreatively named Rachel in the early 80s? Not too much, I don't think. But I make amazing latkes. The secret ingredient is knuckle blood.
If you had to choose a specific focus, what do you hope to accomplish in your career?
I recently needed to write a formal "career objective." I pulled "To use my event planning, editorial, and social media experience to build authentic literary communities online and in person" out of my ass, and was startled to realize it was completely true. But whether that means I'll eventually launch a web magazine, open a bookstore, consult for nonprofits or what, I'm really not sure. I want to talk to smart, creative people who care about the same things that I do and make stuff together, or support the stuff those people make. I'm not someone who feels like we need to fight e-books or big publishing or self-publishing or blogger book-deals or any of the other straw/bogey men in this industry. I think we just need to figure out the best ways to navigate the doors that are opening and the others that are closing. We need to continue providing opportunities for writing and reading stories, as people always have and always will, and help the right readers find the right writers regardless of how they are published. I guess I hope to accomplish that.
Did you come up with the Six Word Memoirs idea?
It was initially just going to be a blog post on SMITH's Memoirville section — I asked a few memoirists to do the memoir equivalent of Hemingway's famous six-word story. Then we needed a story-contest format that would work on twitter and the idea fit. It got popular really quickly from there. I think it was just zeitgesty enough to strike a chord — brief and simple, personal and confessional and voyeuristic. 
Anything else you'd like to add about your experiences either at Smith, Housing Works, or writing for various publications?
I talk a lot about this metaphor of broccoli and chocolate cake — it's hokey but it's important to me. Basically, I don't think we need to convince people to read because they should, because it's good for them. I don't think reading a book is inherently healthier or nobler that watching a TV show or movie, especially a crappy book vs. a brilliant tv show. I also don't subscribe to the "every time you watch The Jersey Shore, God kills a poet" school of pop culture. I read books because I enjoy the shit out of them. A great novel isn't a wheat grass shot — it's an ice cream sundae with whipped cream and hot fudge.
And the other thing I should say is that while I'm mostly known for six-word memoirs and Housing Works events — genuinely two of my proudest accomplishments — I'm actually moving on right around the time this will be published. I'm going to be the Community Editor for Bookish.com, a new web venture for book lovers. I can't say much about it yet, but I sincerely hope it will be a chance to pursue those things I'm most excited about — providing people opportunities to interact with writers and readers, talk about favorite books, recommend them to others, turn strangers into friends and unknowns into bestsellers, all while figuring out that little thing we like to ominously call The Future of Books.