The Big Jewcy: Rachel Kramer Bussel – Cupcakes And Sex
Rachel Kramer Bussel, a New York City-based writer, has been involved with erotica and the sex literature industries for over 10 years. Read More
By Kylie Jane Wakefield / June 6, 2011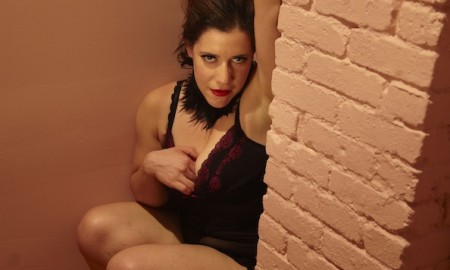 Jewcy loves trees! Please don't print!
Rachel Kramer Bussel, a New York City-based writer, has been involved with erotica and the sex literature industries for over 10 years. From working at Penthouse, to writing her own sex column in the Village Voice, and editing 42 anthologies, Bussel has done just about everything when it comes to the discussion of sex. Jewcy got a chance to speak to the prolific writer and editor about her varied career.
Why and when did you decide to become a sex writer?
I don't think I ever decided to become a "sex writer" and it's a label I struggle with; I'd much rather just be called a writer. But when I was in law school at NYU back in my early twenties, I was reading a lot of erotica and at one point thought, "I could try that." And I did, and my fictional story about Monica Lewinsky, "Monica and Me," was published in a book called Starf*cker. From there I went on to write probably over 100 short stories and then that led to a sex column in The Village Voice, and now one at SexisMagazine.com, and my full-time job as Senior Editor at Penthouse Variations. It's funny because in college I was deciding between law school and journalism school and part of why I picked law was that I never thought I could make a living from words, and now I do.
Do you have any specific goals you're trying to accomplish with your writing?
I don't know if I've ever had goals per se. I feel like I fell into doing what I do and sometimes I look around and have to pinch myself that I get to do all the various things I do and make money at them. I want to try to be as rigorously honest with myself and my readers as I can; sometimes the allegiance to the work outweighs an allegiance to anything or anyone else, and that is a tough balancing act. I learn a lot about myself by writing both fiction and nonfiction, but I'm also aware that, especially around sex, I'm never just writing about me. So I try to keep that in mind. My goals are to not let my fears discourage me from even making the attempt at trying new things in my writing.
What are the best and worst aspects of your job?
I love that I get to do all sorts of things, from editing at my full-time job and reviewing books for Penthouse, to writing a sex column, daily cupcake blogging at Cupcakes Take the Cake to writing erotica for my own anthologies and other people's. That variety keeps me sane, but it can also be overwhelming. I like that the more artistic side of me can explore sexuality in fictional form but the analytical, political side can tackle what's going on in sexual and popular culture with my journalism and editing the Best Sex Writing series.

You have quite a lot of work published…
This year I'll have edited six anthologies, bringing my total to 42. That sounds like a lot, and it is, but each one has a special place in my heart. I'm excited to have done something new for me with Gotta Have It: 69 Stories of Sudden Sex (http://gottahaveitbook.com), and made a book trailer featuring international contributors. I love working with new authors and old favorites and seeing which books readers relate to. Right now I'm putting the finishing touches on Best Sex Writing 2012, with Susie Bright as a guest judge, and am so excited to tackle hot topics of the day like SlutWalks and reach an audience hungry for smart writing about sex that doesn't use humor as a dodge for tackling real issues. But mostly I'm excited to keep on putting out new and exciting and sexy books; I'm honored to have that opportunity and to constantly have my inbox full of hot stories to consider. Check out my call for hotel erotica; that one is a lot of fun to research!
What does the future hold for you?
I hope to keep pushing myself to be creative in new ways, when it comes to writing and events and how I look at my career. Even if I put out ten more books about, say, spanking, I want them to still be new and vibrant. I always tell myself that if I ever get bored with erotica, I'll quit and do something else, but that hasn't happened yet. I also want to write a book; I tried and failed and am now trying again (this one's a young adult novel). Mostly I want to keep myself from repeating the same tropes and pushing myself, even when the going gets touch, to create characters who are daring and edgy and bold and loving.