Thanks Gabe Carimi: The Chicago Bears Are Officially The Most Jewish Team In Football
When I told you the Chicago Bears were the most Jewish team left in the playoffs a few months back, I didn't expect them to become the most Jewish team in the entire NFL. Read More
By Jason Diamond / April 29, 2011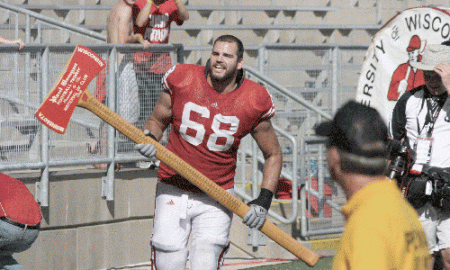 Jewcy loves trees! Please don't print!
When I told you the Chicago Bears were the most Jewish team left in the playoffs a few months back, I didn't expect them to become the most Jewish team in the entire NFL.  But thanks to a trade in last night's draft, the Bears pulled off a minor miracle by picking up Wisconsin Badgers left tackle Gabe Carimi.
The All-Amerian Carimi stands 6'7, weighs 315 lbs, is a black belt in karate, and is nicknamed "The Jewish Hammer."   Hopefully offensive guru Mike Tice can use Carimi to help protect sack-prone quarterback Jay Cutler, and maybe won't mind him fasting on Yom Kippur.  Via Hillel.org:
In an interview with UW Hillel, Carimi emphasized that he does not view his Jewish identity as an obstacle in his life as a student athlete. His decision to fast on Yom Kippur each year, despite the fact that it often falls on game days, is noteworthy in that it demonstrates his ability to maintain his commitment to his faith and career.