Christina Aguilera's Bris-Appropriate Penis Balloons
Remember when Christina Aguilera and Britney Spears were sort of the same person, except that Christina was trashier? And then Christina married a nice Jewish guy and had a baby, while Britney—well, we all know what happened to Britney. Anyway, … Read More
By Izzy Grinspan / February 7, 2008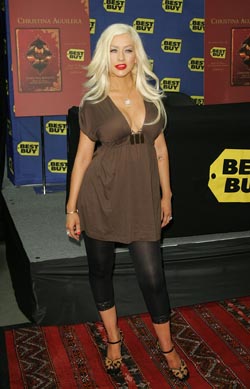 Remember when Christina Aguilera and Britney Spears were sort of the same person, except that Christina was trashier? And then Christina married a nice Jewish guy and had a baby, while Britney—well, we all know what happened to Britney. Anyway, you'll all be pleased to hear that Christina circumcised her baby. She told Ryan Seacrest:
"He did have a bris! It was really interesting because I'm not Jewish, but my husband is. I never really knew a lot of Jewish people growing up, I never knew about a bris. It's all a learning process. Of course, we're such a non-conventional couple that we had penis balloons everywhere."
Telling people that you're "such a non-conventional couple"? Awful. Penis balloons? Pure magic.