Featured Artist: Dina Kantor
Photographer Dina Kantor has spent the last several years slowing building her comprehensive project, "Finnish & Jewish." What exactly does that title mean in a country where there are 1500 Jews whose history began in the early 19th century with … Read More
By Rebecca Guber / November 5, 2009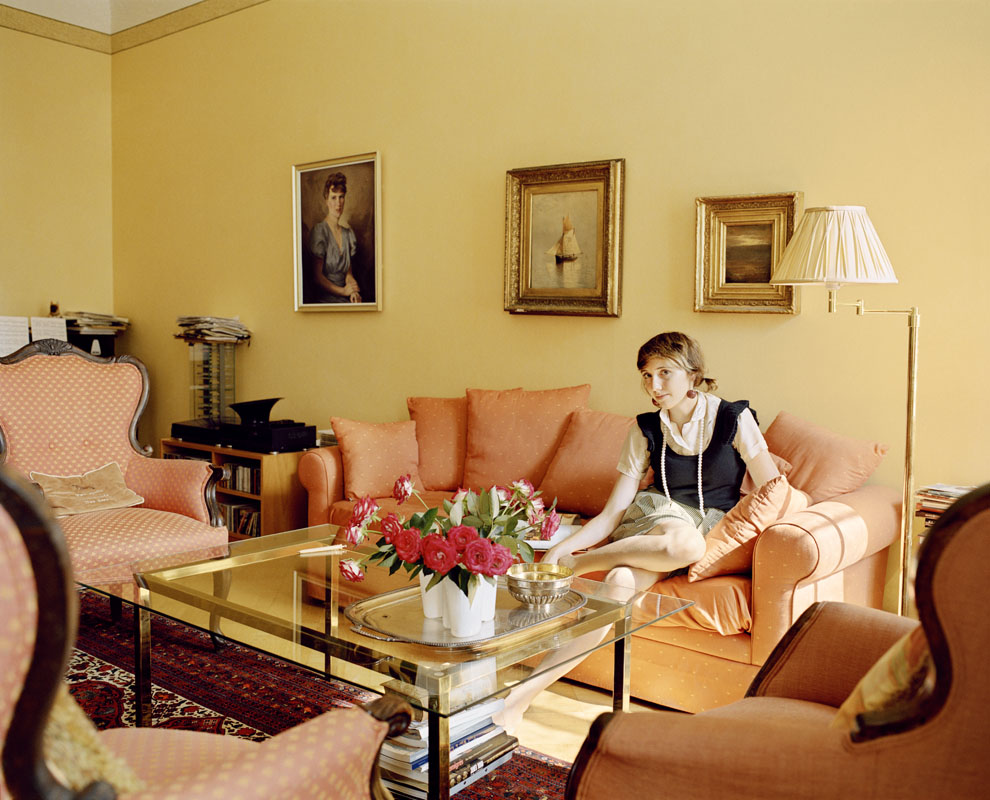 Photographer Dina Kantor has spent the last several years slowing building her comprehensive project, "Finnish & Jewish." What exactly does that title mean in a country where there are 1500 Jews whose history began in the early 19th century with a group of Russian Jewish soldiers? And how do those identities collide, diverge, and cohabitate peacefully? Dina's clear, color-drenched photographs are individually captivating, but viewed together they capture a community and way of life that slowly unfolds in the details. I was struck by the inclusion and also lack of explicitly Jewish symbols and objects in these works, challenging me to consider how each subject chose to show themselves, each wearing their identity in different ways. And in our interview below, Dina also shares about her own process in this project, and how her own Jewish-American-Finnish- Artist identity impacted the work.
Name: Dina Kantor Birthday: September 24th Hometown: Grew up in Minneapolis, live in Brooklyn Marital status: Engaged Upcoming Projects or Shows: I just had a solo show at Blue Sky Gallery in Portland 10/1/09-11/1/09! I also have a piece in Anthology: Recent Acquisitions at The Southeast Museum of Photography, on view until February 2010. Links: www.dinakantor.com Favorite childhood junk food: Twizzlers (specifically when you bit of the ends and used them as straws to drink soda). What keeps you up at night: Sirens. I live on a very noisy corner of Prospect Park in Brooklyn. Favorite useless celebrity: Tyra Banks.

What originally drew you to the Finnish Jews? I began photographing the Jewish community in Finland for very personal reasons. My mother was born in a small town in Finland. She moved to Minneapolis as a child in 1947. When she married my father, she converted to Judaism. So for me, this began as an exploration into my own heritage. It's now something greater, something I see as a sociological document, a portrait of a community, and an archive of contemporary Jewish life in Finland. What surprised you about enmeshing yourself in this Jewish world? How hard it became to leave. I met so many fabulous people who immediately accepted me into their small community. Photo shoots turned into discussions over coffee, dinner with the family, and even an invitation to visit one family's summer cottage for the weekend. Every time I get an email from Finnair about special flight deals, I seriously contemplate not paying my student loans for a month and going back to Finland instead. How do you think working on this project impacted the Finnish-Jewish community? That's a really hard question for me to answer. I can only speculate. Generally, I believe that in a religious community there are no real physical boundaries or exact definitions of who belongs or why. I chose to photograph anyone living in Finland who self-identified as being Jewish, not only the official members. Somehow the photograph helps establish these boundaries, both for the community itself and for the viewers. I think choosing to participate in my project may, in some way, have confirmed their sense of belonging to this specific community, whether that was conscious or not. I hope to publish a book and exhibit the work in Finland soon. I think it will be interesting to see the impact on the community then. I'm also working on a set of prints to donate to the Finnish National Archives, which I hope can be preserved there for future generations. How would you describe your approach to this project – are you viewing this project through the lens of documentary photography? A little bit. I'm mainly interested in portraiture and the signifiers in these images that give us clues to identity. I'm interested in understanding the structure of a community, the desire to belong to something, and especially how the camera contributes to our definitions of identity and community.

I'm struck that few of the images have obvious Jewish iconography. Can you share some of the conversation around how people crafted their surroundings? I'm absolutely in love with Finnish design. I love the clean, strong lines and the bright colors that many of the people who I photographed have in their homes. I want every dish and vase in the Iittala collection. It's true, most of the spaces I photographed may have more Finnish signifiers than Jewish signifiers in them. Someone once told me that he thought my subjects wore their Judaism subtly. While both synagogues in the country are officially Orthodox, I only met one man who considered himself that religious. The rest of the community seems to be more secular. So it makes sense that this would be reflected in their homes. I usually spoke with my subjects about the decor of their homes or work spaces to some degree. In making the photographs, I wasn't only interested in finding Finnish or Jewish symbols to record. I loved discovering all of the personal clues to identity that each family had in their homes.

How would you describe some of the differences in the Finnish Jewish community, in comparison to the one you grew up in? Well, the community that I grew up in was probably as big as the entire Jewish population of Finland. I knew a lot of people in my community, but my relationships with them were unlike those I came across in Finland. After my shoots, I would usually show my other images to the person I just photographed. It was amazing how everyone knew each other so well, even across generations.

You mentioned creating a community portrait – are there other artists that do this type of work that you've been inspired by? I actually teach a class at International Center for Photography all about photographing communities, and we look at many of my influences, like August Sander, who made a portrait of the people of the twentieth century. Or Tina Barney, who created a portrait of the members of her social class. Or Malick Sidibe, who photographed the local youth at parties in Mali in the 50s and 60s. So I know you have a show that just closed in Portland, what's the next project you're working on? I'm currently working on a new project in Minneapolis, where I grew up. It also has to do with identity and community, but I'm coming at it from a different direction. I'm just at the beginning, and I'm exited about how the project might grow.