A Fresh Perspective
The city of Brotherly love is emerging a small group of artists who both veteran and young are bringing a freshness and ability to art unlike any other group in the city. Called the "New Philadelphia School", they commemorate "The … Read More
By Petros Pappalas / February 20, 2009
The city of Brotherly love is emerging a small group of artists who both veteran and young are bringing a freshness and ability to art unlike any other group in the city. Called the "New Philadelphia School", they commemorate "The Eight" young artists of Philadelphia who one century ago came together to redefine modern culture in the City of Brotherly Love. Located in Old City on 162 N. 3rd Street, Knapp Gallery is the manor to this assemblage of artists.
One of the artists currently being exhibited is Adam Lee Farrell. An approachable artist who at first encounter seems almost too light hearted to bear the artist anxiety present in those who rush to the forefront of the ranks fighting to redefine au courant perception. "Through my primitive brushwork and self revealed interpretation I can penetrate the viewer while simultaneously comment on humanity", is not what Adam said himself, but what his work opened up to me while browsing the exhibit. Jeff Frederick, the curator as well as innovative force behind Knapp Gallery made note on how Adam has been experimenting for a decade with his painting process. What this reveals to me is that all the anxiety and over thinking that nestles into the hearts of just starting out artists has already been  encountered, wrestled with and triumphed over by Adam.  Overcoming this beast of uncertainty can be one of the most liberating victories for some artists.  Perhaps this is why Adam is so approachable indeed; since his work is now the result of forging his process into the realm of the unconsciousness, his conscious demeanor can take on any form it wishes, without jeopardizing the artistic integrity of his process.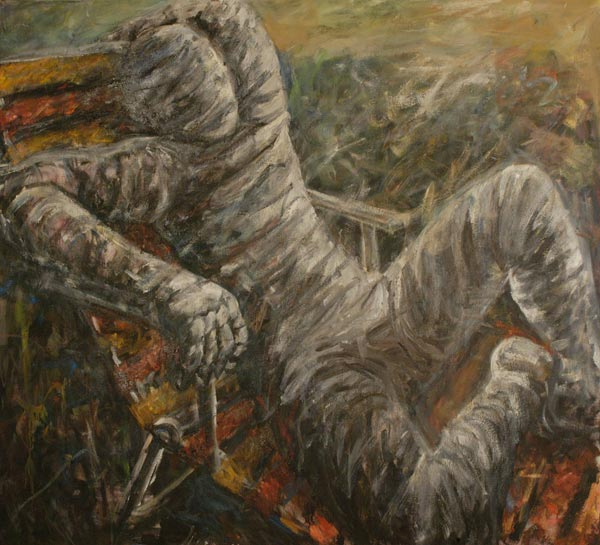 R. Michael Walsh is the second artist exhibiting work at Knapp Gallery. His work lays heavy with formal elements such as color, shape and composition. By enticing the viewer visually, his work effortlessly engages the mind into a dialogue, exploring and extracting meaning. After the opening show, I had the pleasure of sitting down and having a lengthy discussion with Michael about his art. It was a great joy listening to Michael describe his work and allegorical references with a tough, almost New York cab driver like demeanor, while unintentionally giving himself away as a sensitive observer. When looking at Michael's work, the definitions of class and role we use to separate people become blurred, and what stands out most is the passive sadness that bridges the viewer with their spiritual antithesis, themselves. 

Part of the brilliance of Jeff's curating abilities is how Michael's somber work, highly contrasted with Adam's expressive energy, is arranged to work with the flow of the gallery, without encountering any breaks or tensions. As Jeff mentioned, "The exhibit is set up spatially to allow the viewer to connect the dots visually."  The elements presented in the forefront of the room by Adam's primitive, intuitive work triggers a specific visual curiosity that is investigated by Michael's allegorical compositions granted at the hindmost of the space.
Recent Works by Adam Lee Farrell and R. Michael Walsh will be open to the public through March 1, 2009.  For more information please visit knappgallery.com.