How to Sound Smart This Week: Oscars Edition
Members of the Academy have already made up their mind about this Sunday's Oscars—ballots were officially due today. Plebes like the rest of us, however, have another couple days to decide where our allegiance lies, which means that Oscar talk … Read More
By Izzy Grinspan / February 19, 2008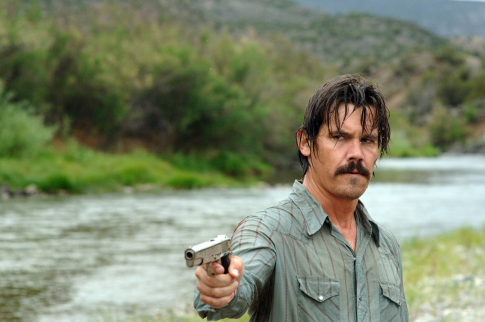 Members of the Academy have already made up their mind about this Sunday's Oscars—ballots were officially due today. Plebes like the rest of us, however, have another couple days to decide where our allegiance lies, which means that Oscar talk is a surefire way out of any awkward silence this week.
The big issue, according to pretty much every major publication out there: Will the Academy reward a movie with no satisfying moral resolution? The Coen brothers' No Country for Old Men was formally brilliant and occasionally terrifying – that scene where killer-for-hire Anton Chigurh torments the clueless gas station attendant still haunts my nightmares – but it didn't have any clear message, other than "Sometimes killers-for-hire don't get caught." (Also: "Karma will never let a mustachioed Josh Brolin get away with shooting a dog" – a moral borne out this year by American Gangster as well.)
New York Magazine's film critic, David Edelstein, suggests that the Academy might deliberately give No Country the best picture award as a sort of gesture of spiritual compensation for the financial failure of pretty much every war movie that came out this year:
With all the downbeat Iraq movies DOA at the box office (what a lesson was there!), No Country might be the best way for Academy voters to signal that it's not show business as usual.
It's a worthy theory, but since when – you might point out – has the Oscars been opposed to "show business as usual"?
Meanwhile, in the New York Times' Carpetbagger blog, David Carr considers the possibility that Juno will win best picture because it's so much more accessible that No Country. Like Crash, it aims for the heart and not the, uh, brain. If you're feeling combative, you might link this up to Patricia Cohen's Times article on the dumbening of America, but that would be rather anti-social, wouldn't it? Maybe better just to lead the conversation around to David Denby's New Yorker essay about the Coen Brothers' oeuvre (speaking of anti-social, though, don't say "oeuvre.")
Denby argues that the Coens are just too nihilistic to make genuinely good films – I mean, say what you will about twee faux-indie romantic comedy, but at least it's an ethos. Ironically, this nihilism is exactly what makes them the perfect people to adapt a Cormac McCarthy book. Denby explains:
Stimulated by McCarthy's tough little sentences, which record action and thought but not sentiment, the Coens have hardened their style to a point far beyond what they accomplished in "Fargo."
Hard style isn't enough for him, though it's more than enough for me – sure, the film version of No Country doesn't make too much sense as a crime story, but as an allegory about evil it's actually better than McCarthy's novel, which gets kind of bogged down in the crime-story details. Or so you could point out casually by the water cooler. A caveat, though: "better than the novel" is not the same thing as "will win best picture." Me, I'm putting my money on Juno.