The Ira Glass Infatuation Post/This American Life Roundup: "True Urban Legends"
One of the sexiest things about men like say, Woody Allen or Richard Feynman, is the capacity of their minds. Not only are they brilliant, but also giving with their intelligence in such a way that generously takes your psyche … Read More
By Bambi Shlomovich / April 27, 2010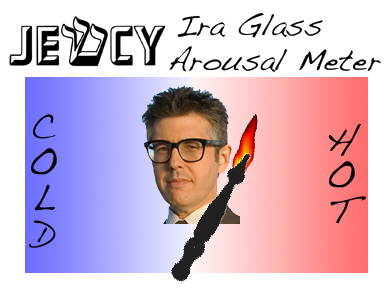 One of the sexiest things about men like say, Woody Allen or Richard Feynman, is the capacity of their minds. Not only are they brilliant, but also giving with their intelligence in such a way that generously takes your psyche into another dimension. And what's not to like in a giving lover?  These men have given us stories that force you to relate to the previously unknown, anecdotes that make you laugh at yourself, and concepts that open your eyes-all overpowering enough to make you feel small in the context of a more complex reality.
Of course the very same thing could be said of Ira Glass, and this week's installment True Urban Legends was especially arousing. There's nothing that inspires a surreal absence of the ego with lowered inhibitions like the combination of noir urbanity and its lies along with a talented Casanova to guide you through it all.
Proving the naysayers wrong through rock hard journalism, Ira leads you back to falsely debunked city tales; revealing reality's kinky underbelly where alligators and rats dwell below and in your toilets. Poetically, he whispers, "We try to dive into the smoky vapor of illusion and myth."
Shit Ira, that's hot. 
Act 1-Machiavellian Schemer
As Ira interviews Steve Poizner, a Silicone Valley-bred millionaire-turned-teacher, he exposes surprising misconceptions published in the Monopoly Man's book about his pro bono teaching experience. The way that these two do battle at one point is like a long-awaited duel of NPR vs. FOX News. While my uninhibited trust in NPR may seem naive, remember that love is blinding so I'm allowed my delusions. But something in my heart tells me that public radio's modest excellence in well-rounded reporting is a sounder bet than Fox News' self-acclaimed objectivity that was recently called by John Stewart "the meanest  sorority in the world."
Thank you for calling out the poser, amour. "Could he have written an entire book misperceiving so thoroughly what was happening in front of his own eyes and was now trying to use that book to run for governor?" he incredulously wonders. Misperceptions and the bozos who inflate them are not sexy. Ira Glass is.
And by the time you blast Coolio at the end of the act, I'm probably too easy to safely be walking around in public.
Act 2-That's Normal Here, Three Standard Deviations Out of my Mind
Ladies and gents, you know you've found a good man when his friends are trustworthy. Fellow TAL reporter Mary Wittenburg presents former-refugees' strange ideas about the United States that sound like softcore fiction in Old Country, but are revealed as true upon examining Land of Sour Milk and Money-that Americans do live as if they were in a Chevy Chase film. (As one of the Youtube comments raves, "This is THE standard in holiday lighting. A model for all to? follow. Who cares about the power bill, seriously?!") Mary quotes, "That's true? People here don't follow soccer? Men really date other men? Americans sleep in bed with their cats?" Yes World, Americans are weird by your standards. And Americans, you are not normal. Or special.
Act 3-You're scaring me, Ira
Hosting another segment, Ira reels in the debate about death by cellphone. The good news is that as outrageous as the evidence may sound on either side, somebody's gotta be crazy (and you know what they say about the crazy ones). "What's the most alarming evidence you have? Go ahead, scare us," utters our normally loyal host, manipulating his media reins to steer us out of our safety zones. I know this strategy well; boys use it all the time. Alarm the girl with a whole lot of danger to induce confidence in Señor Alphamale. Totally un-PC. Totally hot. Thanks for goin there, Ira. The acceleration from bad to bed is exhilarating. And by bed, I mean overwhelming statistics deflating claims of cellphone-induced blood-brain-barrier deterioration. Maybe.
THE VERDICT
Give me some of that Steven Levitt-style correlation-causation distinction anytime. Satisfying that logic button is where it is at.  In terms of arousal, Ira pushed the mercury up a few degrees in my early-Spring thermometer.