JDub Is The Selector: Jerusalem Invents "Season Of Culture"
Tel Aviv has some competition for the title of "Best art city in the Middle East." Read More
By Aaron Bisman / February 3, 2011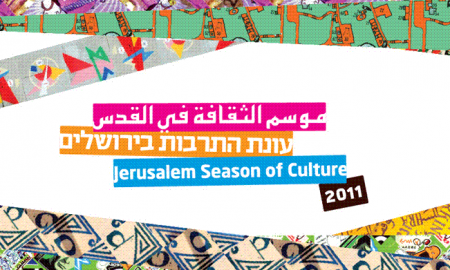 Jewcy loves trees! Please don't print!
Stereotyped by its ethnic and religious divisions, and constantly under pressure to live up to its reputation as "the Holy City," Jerusalem's cultural contributions – beyond, you know, helping birth a few religions – are not well known and certainly not often highlighted on the international stage.  But that will change beginning in May with the inauguration of the first annual "Jerusalem Season of Culture."
Lest you immediately assume this means presentations of kitschy Judaica, settler jambands, and folk dancing on Ben Yehuda Street, consider the resumes of the founding curators:  Itay Mautner is co-creator of ARTTLV, the international art biennial in Tel Aviv; Naomi Bloch Fortis is former executive director of the Batsheva Dance Company.   They've announced their season with a video commission (below) from Kutiman, best known for Thru-You, which Time named one of the best inventions of 2009 and was featured last fall at the Guggenheim.  Itay and Naomi – as well as their funders (which, you should know, include two JDub/Jewcy supporters – the Charles and Lynn Schusterman Family Foundation and Richard and Rhoda Goldman Fund) are aiming to highlight Jerusalem's flourishing arts scene, and "unleash local and international cultural events rooted in the city's unique cultural DNA."  According to Mautner, "This summer, Jerusalem will be home to one of the most ambitious cultural projects in the history of the Israeli arts scene.  The season…aims to make cultural programming more accessible to a wide range of audiences, and to celebrate Jerusalem's arts and artists in a way that reflects the city's complexity and diversity."
We first heard about the idea for the Season over a year ago.  It was so ambitious as to make me more than a little skeptical that, even with significant funding, it could come together.  But looking over the schedule of planned events is truly overwhelming, in the best sense.  Site specific dance by Merce Cunningham Dance Company and a Swedish staging of  work by Steve Reich performed in a Turkish prison within the City of David; a mini-festival celebrating "alternative" photography, performance, and new music, and a weekly series of events in Machane Yehuda, in which artists will interact with the vendors of Jerusalem's famous open air market.
Jerusalem is too often reduced to the place they throw stones at you for driving on Shabbat or the place you stuff an awkwardly written prayer into a wall. Or the place where, magical as it may often feel, you are reduced to the simplest label that can be thrown at you – Black Hat, American, Baal T'shuva, Arab.  As a tool of both commentary and community, Jerusalem needs efforts like this to ground its inhabitants – and tourists – in the reality of our shared humanity.