Jewcy Presents A Special Q&A For "William S. Burroughs: A Man Within"
Saturday in New York at IFC, Jewcy presents a special Q&A with the director of "William S Burroughs: A Man Within." Read More
By Jon Reiss / November 19, 2010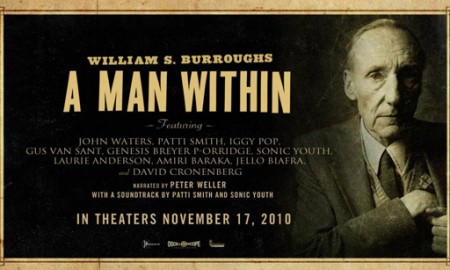 Jewcy loves trees! Please don't print!
William Burroughs is one of those writers who can be a something of a barometer for a person's willingness to look beyond convention, and it shows in Yony Leyser's documentary, William S Burroughs: A Man Within.  The film presents the story of Burroughs as a writer, his relationships and his works.  It captures, the inner life of a tortured, troubled visionary (check out our interview with Yony for Jewcy this summer).
One of the most striking things about the film was the amazing list of artists that contributed their experience and opinion on Burroughs.  In the interview Leyser says that that the big names were actually easy to obtain for the film, because their passion for the work was so strong, that they simply wanted to be a part of it.  The film includes, Gus Van Sant, Iggy Pop, Patti Smith and is narrated by Peter Weller.
William S. Burroughs: A Man Within premiered at IFC this Wednesday and has received very favorable reviews from the NYC press and the press at large (86% on Rotten Tomatoes).  This Saturday, after the 8:05 pm screening of the film, Jewcy presents a special Q&A  after the film, moderated by editor Jon Reiss with Eileen Myles, Regina Weinreich and Yony Leyser.  We hope to see you there.