Jewcy Interviews: Lisa Birnbach, Author of "True Prep"
Time has treated The Official Preppy Handbook quite well.  Originally published in 1980, The Handbook exists in that strange space between novelty and bible.  Still, I'd like to think it has a larger audience of fans than it does detractors.  … Read More
By Jason Diamond / October 5, 2010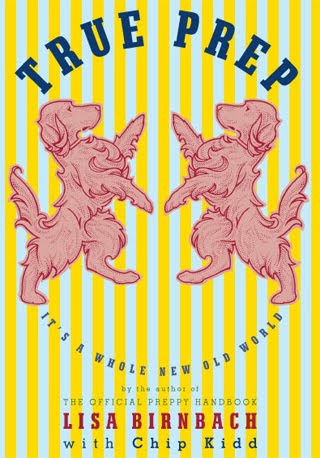 Time has treated The Official Preppy Handbook quite well.  Originally published in 1980, The Handbook exists in that strange space between novelty and bible.  Still, I'd like to think it has a larger audience of fans than it does detractors.  Even now there are folks who will pay upwards of $300 dollars for a copy, wildly bidding over and over for the boom on eBay.  I grew up seeing it around the house, in college dorm rooms, and passed around at parties — all full of preppies.
Lisa Birnbach, one of The Handbook's original authors, has now, 30 years later, teamed up with book design genius Chipp Kidd for the followup: True Prep, which serves as more than just a formidable sequel; the new book is both visually striking, and quite enjoyable to read.
I talked with Ms. Birnbach on the phone during the San Francisco stop on her book tour.
What are you doing in SF right now, is it part of the book tour?
It's going well so far, it's still very early. I think I have 20 something more cities after San Francisco.
I don't know if you ever did a tour for The Preppy Handbook…
I may still be on tour for that, I don't know.
Did you see a big change in the cities chosen in the last 30 years?
Definitely, because publishing is a shell of its former self. I should tell you that I've written a bunch of books in between, including one about Jews.
Oh great what's it called?
1003 Great Things About Being Jewish. But yeah, the cities are different, the concept of a book tour is different, the publishing experience is completely different.
Is there anything in particular that sticks out in your mind?
30 years ago there was no internet, and there was not so much cable and fewer TV channels, so more people read books.
For a really intimate relationship to what you are reading, I don't think you can do it with a screen, I think you have to hold a book in your hand.
That brings me to one of my questions- do you see True Prep as having crossover appeal to Kindles and the like?
I was opposed to it being developed as a digital book on principal, I like old media and things the way they were. But there was an interest in doing a digital book, and everyone told me I would be a fool to not do it, and there was an application for Kindle and Ipad, and it's actually not that bad. True Prep is a digital and audio book that I narrated, so for people who really don't like to read you can fake read it/look at it. There are a lot of pictures in it, and I guess there's some cool things that a digital book can do that a normal book cannot, like blow up a picture, but on principle it's probably very wrong.
I guess working with Chip Kidd, he's probably the best in the business when it comes to design. It probably puts some ideas in your head about doing projects beyond a book. How did the partnership with him come into being?
Funnily enough, I met him on Facebook.
That wasn't a joke?
It wasn't and I was the instigator. I tried to do the most unexciting solicitation possible. I just clicked on his name. I think for most discriminating people including preppies, the approach of 'you're my friend, will you be my friend?' is just awful. I don't know you but I'd like to know you is more honest, I was loathe to refer to him as a friend when I don't know him, but I figured I need more friends so what the hell. He wrote back to me instantly and said 'Oh my God are you really Lisa Birnbach?' and I said 'Yes are you really Chip Kidd?' and he asked if he could take me to lunch. Our lunch took place in April 2009, it went for three hours and during which he said 'I gotta ask, why haven't you done it yet?' and I said 'Because I did it already!' And I knew exactly to what he was referring to and he said he would be honored to do something with me in the future. Lots of people approached me in the last 25 years to do a sequel, but I didn't need to work with another writer. I thought if I was going to do it I wanted it to be visually exciting and beautiful and Chip is such a talented designer, so it just made sense. And as this year is the 30th anniversary of The Preppy Handbook it also made sense to do it in time for that.
I grew up in a very assimilated Jewish family near Lake Forest [considered by the book to be one of the preppy capitals].  I never knew the person behind the book was Jewish, but I feel like it was in the living rooms of every family I knew, Jewish or not, when I was growing up. Do you think people tend to confuse preppy with WASPy?
I think lots of people confuse the terms, but that's legitimate because that's where it originated. Preppies started out as wasps but they also make a mistake that it's about being very obviously rich, which it is not, and that's a little annoying, to tell you the truth.
I was interviewed by someone at The Forward, and they wanted to know how being preppy and Jewish fits. I went to private school with a lot of Jews and a lot of non-Jews. The point is that the Jewish preppy is a familiar, comfortable identity. We're people who believe in education and value it highly. There's no contradiction, it's just the way people grow up and raise their children, especially in New York. Because for so many thousand of years the Jews had to assimilate into whatever land they were living in.  So I don't feel like it's difficult or contradictory or hypocritical, it's just very comfortable.
It's a natural progression.
Years ago there were quotas for these schools. When the quotas opened up, The Ivy League and private prep schools attracted a huge number of Jewish students. Now there are some murmurings from people who are saying veiled anti-semitic things about my writing this book. I let them bicker and complain. The fact is Princeton is now co-ed, African-Americans can go there, women can now be in Skull and Bones at Yale, life has changed so get with it.
In the 30 years since you wrote Preppy Handbook and now with True Prep, you say inclusion has been a big change. What are some of the other big changes you've seen in prep?
Certainly the democratization. If you look at any single recruiting brochure from any old American prep school, you will see a gorgeous mosaic, a lot of different skin colors and eye shapes, you'll see the diversity that all these schools are craving. They are manufacturing new kinds of preppies that didn't go to prep school 30 years ago. The formally all-boy schools are all co-ed save two. There's also a lot of financial aid offered to minorities that was previously non-existent. Polar fleece is another big change. People who would not wear a natural fiber next to their skin are now wearing recycled Evian bottles and loving it.
How did you initially get so interested in prep culture that you wanted to write a book about it and now 30 years later another one?
You are the first person who has ever asked me that question!  I'm gonna have to send you a gold star or something.
I went to Brown and saw my first two collar guy, and I had never seen two Lacoste collars fighting against gravity, back to back. I started seeing more of them, and some of my friends were friendly with them, and there was a type of self-conscious prep minority there. There was this group of people who wore many shirts at one time and were very unsentimental. They knew how to have a good time, and that was one the groups I spent time with. I had gone to private school my whole life, so I had spent time with preppies, except no one used that word to describe themselves.  Saying you're a preppy is basically you're erratic, so it wasn't used.
The book was such an influence in the 80s, then in the 90s, "preppie" seemed somewhat negative.  Now, 30 years later, I walk around Brooklyn, and everybody is wearing boat shoes, Polo, etc. The hipster world is co-opting preppy outfits.
I find it delightful that by wearing topsiders they've become ironic and hipster, I see that so many times. A nice wrinkled cotton shirt, some kind of amusing trouser or jeans, your hair definitely bed head and boat shoes. The funny thing is, and I don't think this is endemic to Manhattan or Brooklyn or anywhere, is that even though you create your own fashion identity we're all wearing a uniform to some extent. I was a semiotics major in college, and I can tell you 30 years later that the semiotics of what you're wearing matter. It's funny that there's been times in my life where I've looked down at what I'm wearing and said 'Oh my god, I'm a lemming! A very well-dressed lemming, but still a lemming!' I had a radio show where I called myself 'The best dressed woman on radio'.
What was the radio show? What kind of show was it?
You're won't believe it, but it was called 'The Lisa Birnbach Show'. It was a 3 hour talk show on the Greenstone Network, which was created to give women hosts a chance to

lead the discussion. It was started by Jane Fonda and Gloria Steinem. Jane Fonda was on my show every Thursday, she was great. She actually went to Kol Nidre services this year in LA because she has a Jewish boyfriend.
I'm just curious because – actually – I was going to ask my mom to send me her copy of Preppy Handbook but I didn't have enough time so I went on ebay to find a copy.  Have you seen –
What are the prices now?
Oh, like two or three hundred dollars.
Two or three hundred dollars … In April, or whenever Easter Sunday was, April or May of this year, the New York Times ran a front page story about the return of this book or the return of me, or whatever.  And I was flabbergasted that it was a front page story.  So the publication of that article moved the Hanbook into a different stratosphere of used book.  I myself was a very big customer of amazon and eBay and ABE books – I like abe a lot, I think it stands for American Book Exchange or something.  It sounds like a nice old man looking in his treasure trove, or something.  And ABE always has them.  But I was

used to paying between, say, seven to fourteen dollars for them.  Now I can't afford it!
When I asked my mom, actually, if she could send me hers after I'd seen the prices she said, "Are you kidding me?  I went on ebay and saw this was worth $250!"
Yeah, you can't have it – I'm selling it!  I know it's expensive.  It's remarkable.  I'm not making any promises and I'm not making an announcement, but perhaps one day it will be reissued.
Well, I'm banking on True Prep being worth twice as much some day.
Yes, exactly.  I think true prep is easily as good as the preppy handbook.
I wanted to wrap it up just since we got a little caught up with time, but what's next for you?  Do you have any plans post-True Prep?  You're a busy writer.
I do.  I'm going to be on tour through December.  I'm already taking notes for my next book – that's a good thing to do on an airplane.  And I'm probably going to be doing a college lecture swing in the Spring, which I would love to do.  And, you know, entertain other things I may want to do.  As I've said, I love the radio, so it would be nice find a way to fit radio in, or fit me into radio, where I'm not back to back with people I don't like, but where I'm at least having a conversation that might be interesting, or fun.
Maybe you could do your own podcast.
Yeah, but that sounds like business.  How do you do that?  Who starts it?  Who's your engineer?
You know what I'm thinking?  Maybe I should write a preppy hagaddah.  That would be hilarious.