Jewish Ephemera: Danny Kaye Vs. The Nazis In Skokie
In 1981, Danny Kaye starred in his most Jewish role ever. Was he trying to reconnect? Read More
By Jason Diamond / May 27, 2011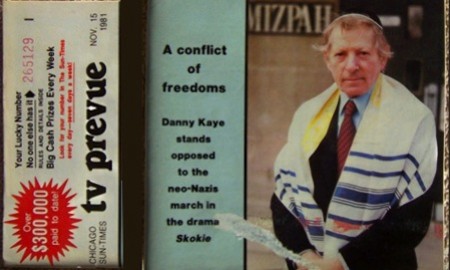 Jewcy loves trees! Please don't print!
In 1977 and 1978, the Illinois Nazis of the National Socialist Party of America attempted to demonstrate their political existence with a march through the streets of Skokie, Il.  With the village's large number of Holocaust survivors, this was viewed as a potentially explosive situation that brought up a number of freedom of speech issues.
In 1981, a made for TV film of the events was produced, starring Danny Kaye and Eli Wallach.  The above image from a 1981 Chicago Sun Times "TV Prevue" was submitted by Jewcy reader Alex Schenider, and features an image of Kaye sporting tallit and yarmulke as promotion for the film.
What's interesting about the photo (as well as the role itself) was that it could be taken as Kaye's way of reconnecting with his Jewish past in a public way.  The actor, born David Daniel Kaminsky, had been best known for his role in the film White Christmas, and was one of the dozens of actors of his time that changed his name to sound less ethnic.
Whether or not Kaye practiced Judaism in any way hasn't been much of a hot topic of discussion, but an interesting tidbit learned over at Jew or Not Jew discusses his stand against another Jewish Hollywood heavyweight that was either based off ethnic pride, or fear of the surgical knife:
In 1944, producer Samuel Goldwyn wanted to cast comedian Danny Kaye in his wartime movie, "Up in Arms". One problem: Kaye just looked too Jewish.

So Goldwyn ordered Kaye to get a nose job. Kaye refused, and somehow got away with it. Instead, Goldwyn made him dye his hair red.