Jewish Movie Week: Justifying My Jeff Goldblum Man Crush
A tribute to the most misunderstood Jewish actor of them all. Read More
By Jason Diamond / December 7, 2011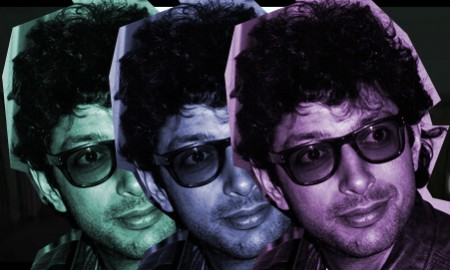 Jewcy loves trees! Please don't print!
As of this writing, People magazine has named two Australians, one Canadian, a Kennedy, and two men who have played James Bond The Sexiest Man Alive.  Brad Pitt, George Clooney, and Johnny Depp have all won the award twice, and even Nick Nolte can claim that, he too, was considered the best looking member of his gender in the early 1990s.
Denzel, Hugh, and Matt Damon can all place a framed copy of their Sexiest Man issues next to their Oscars, Tonys, and other assorted awards.  This year, the chiseled face and perpetual five o'clock shadow of Bradley Cooper joined this exclusive club of dudes that everybody wants to do, and while we can't argue that Cooper has a nice face, it must be said that People has once again failed to offer up a Jew as the Sexiest Man (*Harrison Ford's mother was born Jewish, but he was supposedly raised Catholic, so that kinda counts).  Someday when they finally do, they owe Jeff Goldblum some sort of lifetime achievement award in the field of good looking guys who have spent their career being criminally under-appreciated in both the looks and respect department.  I mean, he's earned his very own spot on Tablet's Greatest Jewish Films list — every single movie he's ever been in.
The first few years of Goldblum's film career yielded little facetime on some of the late 70s most iconic films:  he was the "I forgot my mantra" guy on Annie Hall, Tricycle Man in Robert Altman's Nashville, and has a brief appearance as "Freak #1" on the Charles Bronson's vigilante classic, Death Wish.
Since then, Goldblum's name has been attached to highbrow gore (David Cronenberg's The Fly), the film that defined the Yuppie generation (The Big Chill), massive blockbusters (Jurassic Park, Independence Day), and cult classics (the Mr. Show spinoff Run Ronnie Run).  As an actor nobody can sneeze at Jeff Goldblum's credentials.  As a really good-looking man who also happens to be undeniably Jewish, he is unmatched.  Jake Gyllenhaal, Eli Roth, or Paul Rudd don't have his aloof coolness, and only Goldblum could have filled Vincent D'Onofrio's giant shoes as a senior detective on Law & Order: Criminal Intent.
Jeff Goldblum is under appreciated because Jeff Goldblum is the quintessentially weird guy.  As Bill Murray's nemesis in Wes Anderson's The Life Aquatic With Steve Zissou, to the geeky computer-expert-turned-world-savior in Independence Day, JeffGoldblum has made a career of starring in quirky films or playing the neurotic outsider in smash hits.  He even rocked a ponytail on his 1990 Sesame Street appearance:
I'm not here to say that Jeff Goldblum is an actor the caliber of a guy like Daniel Day-Lewis.  I also understand if Canadians find him a little bit creepy, but I believe it's time the world gives the man his due, and I offer you more pieces of evidence to back up my claim that Goldblum deserves reparations from People magazine for ignoring him for all these years: