Jews Watching Big Love: All The Pligy Ladies
The rest of this week's episode faltered here and there, but was all around, a very strong episode. In a final season, we hope to feel like we're moving forward every moment, constantly pushing to wrap up loose ends. Read More
By Jon Reiss / January 24, 2011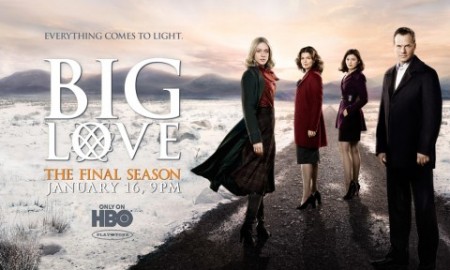 Jewcy loves trees! Please don't print!
The ending to this week's episode of Big Love was one of those moments that will go on to define the show.  It's hard sometimes to pick out these points in the span of a multiple-season TV series.  Often, they come early on: the first episode of Six Feet Under absolutely defined the series, and one could simply watch the first and last episode of the show and have a good sense of what it was about, which perhaps is ideal.  In Big Love's case, we're dealing with a creative team that has a real sense of the importance of singular moments.  At the end of last night's episode, Nikki showed up at Barb's dance class to apologize for something she said (a jab at Barb's parenting skills in relation to her daughter Sarah's abortion.)  To Nikki, the class is a symptom of Barb's recent rebellious behavior.  However, it turns out that the class is no "How to Make it Clap" type thing, it's a straightforward Arthur Murray type dance class.  Amidst the apology, Nikki makes an inquiry.
"What do you do here?" Nikki asks.
"Just the standard dances, you know," Barb says.
"Actually I don't, I've never danced before."
"It's easy," Barb says, "just put one hand here, and one hand here," and goes on to lead Nikki in a dance to the song, "You'll Never Know" by Dianna Krall.  This was a moment beautifully representative of this episode in particular, which visited issues of equal rights in marriage and the world at large, but it also represented the essence of Big Love as a whole.  So many people shy away from Big Love, thinking it's going to be some kind of chauvinist sex fest, but so much of what we see in this show is about the bond between woman in this male dominated fringe existence, one that's almost like it's own self contained political system with a hierarchy that's always in flux.  A man leading in a dance is a most basic symbol of societal male dominance, and here we see Nikki, a woman subjugated by men and dogma her whole life, now a woman in her 30's who's never danced, and she's being led by another woman.  This episode in particular dealt further with equal rights issues by way of another stunning performance from Ellen Burstyn, who acts as an absolute gift to this show.  We've known Burstyn as Barb's mother, Nancy Dutton, since the third season, a sort of pillar of the LDS community, right wing to her core, yet strong and independently minded.  She's a Mormon Barbara Bush.  Now we learn that she was a supporter of the Equal Rights Act, and ended up wrapped up in a small scandal when she tried to arrange to have Betty Ford speak at her local activists group.  It turns out that she arranged for Ford to come speak, but was then reprimanded for it and told to cancel the whole thing.  Too ashamed to deal with the situation, she ended up leaving Ford stranded at the airport.  The theme of how someone who is seen as less-than in a religion in which they believe so strongly, deals with their own strong mindedness, how one squashes their own will in the name of faith, seems to apply to factions of Judaism as much as it does LDS.
The rest of this week's episode faltered here and there, but was all around, a very strong episode.  In a final season, we hope to feel like we're moving forward every moment, constantly pushing to wrap up loose ends.