Jews Watching Big Love: Pizza, Sex and Polygamy
This week, we can officially add Big Love to the list of things, along with pizza and sex that are good even when they're bad. Truly, an hour of the worst moments in Big Love series history, strung together into … Read More
By Jon Reiss / February 7, 2011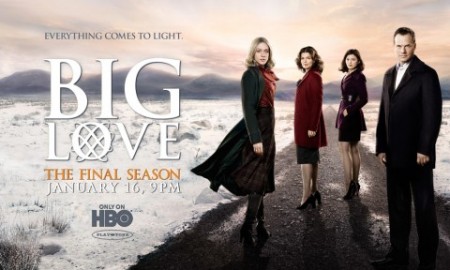 Jewcy loves trees! Please don't print!
This week, we can officially add Big Love to the list of things, along with pizza and sex that are good even when they're bad. Truly, an hour of the worst moments in Big Love series history, strung together into a single episode, would still be far more enjoyable than the best episode of Burn Notice.  Here's what worked, and what didn't'.
What Didn't Work
Margene is only Sixteen: This week, the whole, "Margene was only 16 when she married Bill" thing, felt a little stagnant.  The storyline itself isn't stagnant but it seems the writers haven't fleshed out the characters feelings about it.  Is Bill upset because he now feels like all of the Polygamist cult leaders he's claimed to hate or does he really think she might be damaged goods?
Bill's Dream: Mr. Olsen and Mr Scheffer, lets be very clear about this, you are not the creators of The Soprano's.  The Sop's is the only modern show that's been able to pull off the whole dream sequence thing.  In this is episode, Bill's dream of his mother with Emma Smith (wife of Joseph Smith), while aesthetically beautiful, lacked the depth and potential analysis needed for a successful television dream sequence.
Mr Henrickson Goes to Washington: This was the big political moment that they've been working up to all season, and it just felt like the end of Legally Blonde or some politically slanted rom-com.  Every moment spent of politics feels like valuable final season time wasted.
Best of the Worst: The moment where Bill and the other senator "feel each other's guns" and compliment each other on their weight and girth, was one of the best homoerotic television moments in some time.
What Worked
Multi Level Marketing: Margene selling Goji Blast to all her housewife friends has been comical and true to life, but this week, she's begun to believe that her spirituality is somehow wrapped up in multi level marketing.  This feels like a critique on pyramid marketing; also self help culture and the way people use religion to hawk their wares.
Poor Lois: Lois Henrickson played Grace Zabriskie has had perhaps more memorable actor moments than any other secondary Big Love character, and this actress truly deserves an Emmy for her work.  In this final season, she starts losing herself to dementia, and this week we learn that the dementia was caused by un-treated herpes given to her by Frank.  Watching her, leaning her forehead against the Henrickson's picket fence out in the cold saying, "It was all a waste, I'm filthy," was one of the most heartbreaking moments on the show thus far.
Ben and Heather: Ben and Heather kiss this week.  But, just beforehand we are reminded that, in earlier seasons, there was very good reason to believe that Heather was a lesbian in love with Sarah.  Is she making out with Ben as some misguided way to channel that love?
Help Me Rhonda: The best part of this episode, hands down, was the surprising return of Rhonda Volmer, played by Daveigh Chase — also known as the scary girl from The Ring. Turns out, Rhonda got off the bus that Bill put her on and turned tricks in Vegas until she met Cara Lynn's cousin and married him.  Each scene that involved Rhonda this week was among the best, but, at the top of heap was the attempted shakedown of Albert Grant.
This Week's Best Line: "We may not be Catholics but we're one up on the Scientologists…according to what I've read." –Barb