Jews Watching Curb Your Enthusiasm: Get A Life, Jews!
Larry's adventures in New York come to an end. Read More
By Jon Reiss / September 12, 2011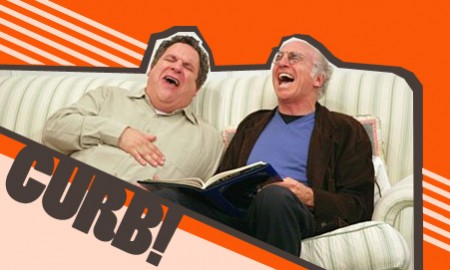 Jewcy loves trees! Please don't print!
Now that Michael Jordan has cracked open the Pandora's box of Hitler mustaches, Larry has chosen to take it a step further, become a veritable Bansky of Hitler moustachery.  This week in the war that is, Larry Vs. the World, Larry fought through a regular Battle of the Bulge.  In Suzie's words, making " a big Megillah out of everything, this week was no different.
Orgasm chair lady made it another week with Larry, getting to the "meet the family" stage of dating.  As Larry finds out, his new girlfriend has a gay son.  Generally this would be no big whoop, but the new little boy in Larry's life isn't just gay, he's pre-gay.  In having to choose an appropriate gift for his girlfriend's gay son, he soon comes upon the realization that almost all children's gifts are sorta homoerotic. However, Larry's handy work of drawing Hitler staches and swastika arm bands on magazine covers winds up turning this little boy into a adorable version of a Hitler Youth.  It's doubtful Larry and the orgasm chair lady are going to make it another week.
However, the disruptor in Larry's life this week came in the form of the 80's boomer incarnate Michael J Fox.  With no way to decipher Parkinson's from "pissed off, Larry winds up kicked out of New York City by the Mayor himself and eventually caught in another, life-altering lie.  Mirroring the circumstances that brought Larry to Manhattan in the first place, Larry winds up flying halfway around the world just to avoid attending a charity function.  Leaving us to guess that if New York City wasn't a proper fit for Larry's neurosis and foibles, Paris is bound to eat him like croissant.