Jews Watching TV: Finales Forecast Future Funny TV
Season finales are a bitch. We try our best to find the good in them. Read More
By Jesse David Fox / May 20, 2011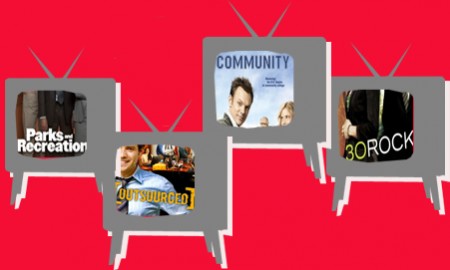 Jewcy loves trees! Please don't print!
Season finales are a bitch. Traditionally, in the span of one episode the show is supposed to both wrap up all the current season's major conflicts while laying out all of next season's ones. The all-encompassing finale, however, has become more infrequent as worse shows have grown less ambitious and great shows have grown less confident in their futures. If a given show is not sure if or when it is coming back, then it's forced to write a season finale that also doubles as a series finale.
To some extent this was the case with the finales for Community and 30 Rock. Despite getting an early pick up, 30 Rock was forced to work around the uncertainty surrounding Tina Fey's impending little human creation. With the show being delayed to midseason, 30 Rock decided to write an anti-finale of sorts, in which they told the story of what happens between seasons.
Community had also been picked up already; however, considering its very bad ratings, there seems to be some indecision over what the show will look like next year. Dan Harmon in a recent interview put it best, "If this show is going to [go on] for seven years, it's going to need to somehow roll out the red carpet for my mom in the third season, without alienating the fans that we have who love nothing more than the unpredictable nature of the show, people I'm compulsively unable to betray because I'm one of them." That plus NBC Chief Robert Greenblatt being recently quoted as saying, "we need to make the comedies broader," reflects that there might be big changes in store at Greendale Community College. Accordingly, Community's finale did address the season's major conflict (Pierce) but offered little in terms of what to expect from next year. If the show starts playing it straighter, then their paintball extravaganza might have been a last hoorah for the high-concept version of the show.
It was apparent last night that The Office and Parks & Recreation were more certain of their respective futures, though each exhibited that in a very different way. The Office resolved this season's major conflict (Michael leaving) a month ago, so it was left to set up next year's defining drama, the introduction of a new boss. With the episode inevitably ending in the cliffhanger, The Office succeeded by writing a finale in the vain of one of the greatest ever, The Simpsons Part One of "Who Shot Mr. Burns?" The Office showrunner Greg Daniels was a writer on The Simpsons at that time so it should be no surprise he was able to execute a fantastic real world facsimile, in which Jim plays the part of Lisa, sorting through all the wacky suspects applicants.
Parks & Recreation, being Parks & Recreation, executed a pitch perfect finale. Every single one of the lead characters' conflicts was answered in a way that foreshadowed next season. And talk about a show confident in its future. It appears this entire mini-season was meant to set up Leslie's conversation with the political consultants. This little plot twist is a preemptive strike against the fourth season dip many sitcoms take when they remain with the same conceit for too long. That plus Anne finally having a reason to be in that office so often, a fatalist Chris, a media mogul (or likely failed media mogul) Tom, and Tammy 1.0 leaves Parks & Recreation as the most hotly anticipated of the line-up. Until then, we suggest watching this clip, which might be the funniest 50 seconds of television all season, on repeat for the next three months:
<object width="512″ height="288″><param value="http://www.hulu.com/embed/__cF91VX4tFJXh1x2J0MnQ"></param><param name="allowFullScreen" value="true"></param><embed src="http://www.hulu.com/embed/__cF91VX4tFJXh1x2J0MnQ" type="application/x-shockwave-flash"  width="512″ height="288″ allowFullScreen="true"></embed></object>