Jews Watching TV: Larry David Returns Home
Forget everything else, Larry David was on NBC last night. That's big news, right? Read More
By Jesse David Fox / April 15, 2011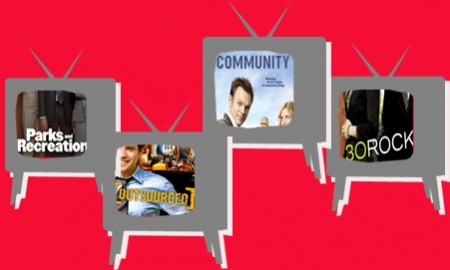 Jewcy loves trees! Please don't print!
Leading up to last night, NBC seemed fixated in promoting one thing, a certain tremendously talented, perfectly cast, comedic genius guest star. Of course we're talking about Stephen Tobolowsky (no we're not). Four of the six shows featured guest stars for different ends and to varying success.
The biggest fanfare surrounded Will Farrell on The Office. Regardless of the inevitable ratings boost, Farrell is one of the most inherently funny actors working. More importantly, Deangelo Vickers worked because he was written and performed to fit in this universe, save his incredible Farrellian name (it could pass for Ron Burgundy's mystery/romance novel nom de plume). Even the slapstick scenes with Andy read genuine, being played both for the broad joy of it and to reveal the tragic desperation of his wanting to impress a new boss. The four-episode arc that Farrel has signed on for is the perfect amount of time to strike the necessary balance, any longer and his natural Farrellness might take over.
Probably, the most appropriate cameo was of the aforementioned Sammy Jankis Ned Ryerson Stephen Tobolowsky on last night's Community. Tobolowsky is one of the all-time great "that guys" (ranked 4th here) and a type of actor you'd imagine Abed having a poster of on his wall. There was something beautiful about having them go toe to toe over the philosophy of Who's The Boss?. The absurdity read like a hearty fuck you to the critics of the shows pop culture insularity.
Equally as aware of itself but not nearly as deftly executed was Larry David's appearance on The Paul Reiser Show. It was by miles the funniest part of the premier but seemed to underline, instead of answer, the obvious question facing the show: Why is it exactly like Curb Your Enthusiasm. There is no twist, no but, which even Perfect Couples had (it's like Friends but the two couples start off already married and there are no chicks, ducks, or outbreak monkeys). Even the music and the Christian wife were eerily Curbesque. So, when Larry tells Paul, "you should be doing a show like what I have" it felt not like a Community-style meta wink but like a shrugging old Jewish guy looking dead into the camera going, "ehh, get it?"
30 Rock, as it is wont to do, mocked this sort of inane guest spot. Whether intentional or serendipitous, having Phil Rosenthal rap, "I'm the hero cop and I'm here to say, don't do drugs is what I'm here to say" over the end credits seemed like the ideal way to cap off the night (we obviously didn't watch the soon to be extinct Outsourced).
Ironically, the night's best episode had no big-ticket guest stars (other than possibly Nell from the movie Nell). In the wake of Michael Scott's seven years in the making proposal, there was something equally startling and touching about learning mid-episode that it was actually a "wedding episode." Beyond a great party – featuring Ron both joyously trying to dance and more joyously describing how to create a wife effigy – it seemed appropriate for these two "boneheads." Also, it successfully progressed the inevitable Leslie v. Ben relationship, which has replaced will-they-won't-they with how will they. Ben and Leslie are nerdy, awkward, career-orientated characters and it takes time for people like that to get out of there own way.
That plus Jerry's party shirt more than made up for the lack of famous faces and earned Parks the victory last night. Here is a clip to celebrate their win and the wonderfully naive/doomed/adorable Dywer-Ludgate union.