Carnegie Zhlubbo: Lenny Bruce Shows Up In Brooklyn
Steve Cuiffo brings Lenny Bruce back to life in a one man show. Read More
By Margarita Korol / February 7, 2011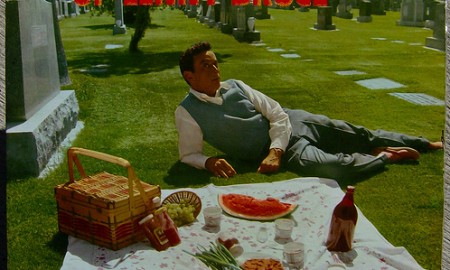 Jewcy loves trees! Please don't print!
Fifty years ago on the dot last Friday, Lenny Bruce performed his infamous midnight gig during a blizzard at the cultural behemoth in which he stood before 2000 Americans and presented to them on a silver platter the shmutz they left on the toilet that morning.
Fast-forward to this past weekend: Steve Cuiffo was Lenny Bruce "At Carnegie Hall," albeit this time it was Brooklyn. His one-man act recreated at St. Ann's Warehouse in Dumbo channeled Bruce's distinctly nuanced, unapologetic delivery expertly. It was not about the one-liners, but the profound criticisms that could be met with no equal rebuttle that Cuiffo replicated in eloquently muttered ramblings without pretension. He had down the mumbles, cool jazzman persona, and sudden bursts in volume that clued in an audience that they were not in for a monologue derived from a linear line of thinking, but one residing in the Id of a genius.
A full house gathered on the anniversary, arriving amidst fitting mounds of dirty snow. Could a show designed for a specific audience (under 40) fifty years ago still be well-received today? If you were to take a look at the jagged red line underlining zhlubbo in a word processor and right click to ignore, you've got your answer. Bruce's lingo already at cryptic levels for squares in his day, St. Ann's took care of the colloquial with the ergonomic glossary that outlined faded pop of a half century ago as well as the Yiddish, debatably unnecessary for the Brooklyn setting. The crowd marinated in the monologue that censured the subjective moral codes of the times, and rewarded Cuiffo with a booming applause that thanked him less for the laughs than for saluting an icon.
Meanwhile at Carnegie Hall this weekend, the Cleveland Orchestra followed suit on the very stage where Lenny Bruce brought Tits and Ass to the world. Just as the stand-up did not make all the stops on his tour post-Miami due to blizzards (as he kvetched in the act), nearly missing his New York stop, so too did the orchestra lose in the battle of Man vs. Nature  fifty years later, falling to the mercy of the lovely weather in Chicago last week, and instead gave an impromptu performance as a jam band in an Ann Arbor pizza parlor.