Louis Katz's Sorta Blue Comedy
Louis Katz is an easy-to-listen-to California native with a delightfully dirty mind, and his debut comedy album, If These Balls Could Talk, is a stellar slice of his twisted sense of humor. Read More
By Adam Lustick / April 5, 2011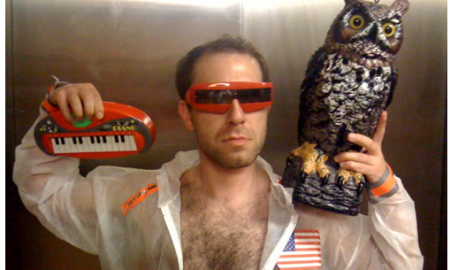 Jewcy loves trees! Please don't print!
Louis Katz is an easy-to-listen-to California native with a delightfully dirty mind, and his debut comedy album, If These Balls Could Talk, is a stellar slice of his twisted sense of humor. His main playing field is the world of sex and he touches on all the necessary topics – 3-ways with chubby girls, sex without glasses, sex with handicapped Indian women, and hippies who play the didgeridoo because it's the closest they'll come to sucking off a tree.
Not to say that Katz' material is entirely blue – it's not. He deftly riffs on vegans, married friends, being a Jewish kid at Christmas time and America's obesity problem – "Why is America so fat? Here's a theory: burgers are 2 bucks, salads are 12.99. You got 5 bucks in your pocket. You can get a burger, fries and a shake or you can put a down payment on some arugala. Have your mom co-sign for some croutons."  Katz is charmingly self-depricating and obviously a smart dude.
The album was recorded at The Punchline in Sacramento, which happens to be the literal club where Louis got his start, and the crowd is into it from the jump, providing an engaged, supportive energy throughout. It's funny how much the audience's tone affects the experience of listening to a comedy record, and I found myself being swayed by the obviously good energy in the room.
If These Balls Could Talk is a consistently funny record. Which, theoretically, is what you're looking for from your comedy.
The record is available for purchase on Louis' website louiskatzcomedy.com and wherever else hilarious things are sold.