The Movie in My Mind
"Who's going to play you in the movie?" From hidden in a teenage diary with a key, 90-year-old Florence was revealed in a book. I have traveled to 20 cities on The Red Leather Diary tour, and with the paperback coming out … Read More
By Lily Koppel / January 16, 2009
"Who's going to play you in the movie?" From hidden in a teenage diary with a key, 90-year-old Florence was revealed in a book. I have traveled to 20 cities on The Red Leather Diary tour, and with the paperback coming out next week on January 20, we will log more. Florence and I often appear together.
At the end of each reading, we were inevitably asked that question.
"Meryl Streep," answered a glamorous Florence, staring off for a moment in her violet tinted black-framed Gucci glasses.
"Scarlett Johansson for young Florence or for me," I said. "What do you think? I'd love to hear your suggestions."
From the moment I stepped out of my building at 98 Riverside Drive when I was 22 and encountered Titanic treasure – a dumpster filled with old steamer trunks plastered with vintage travel stickers, just a polishing away from their descendents at Louis Vuitton, it was like finding a message in a bottle.
Unhesitatingly, I climbed up, and into what felt like my own movie.
When I decided to become awriter, I made a pact with myself. If I want to write, I must become an interesting person and take chances.
At Elaine's, the famous Upper East Side restaurant, which just celebrated its 45th anniversary, a group of New York Times editors took me out to dinner to celebrate The Red Leather Diary's publication. After one too many whiskeys, I overheard my boyfriend, Tom, a writer, talking to a radio personality. "The Red Leather Diary is The Ben-Hur of our generation." "Where did you get that?" I laughed, shaking my head as our cab sped us through Manhattan towards home.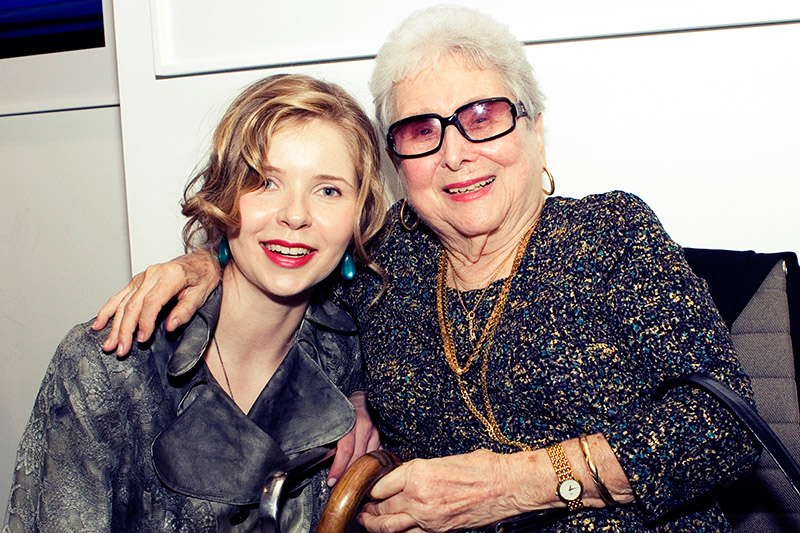 When I found the diary, I was immediately transfixed by the writings of the young woman, who breathlessly chronicled her teenage years during the 1930s. Passionate, cosmopolitan, cultured, risk-taking, tempted equally by both men and women, Florence seemed to leap from the page – and to elicit connections to my own life as a 20-something single woman in New York.
Maybe Claire Danes, Julia Stiles…
Florence's life was rich in theater and art, salons, an obsession with a famous avant-garde actress, Eva Le Gallienne, and lovers, writers and poets, including an Italian count Florence met when she sailed to Europe in 1936. Filippo Canaletti Gaudenti da Sirola – I love rolling all of his names off my tongue. Filippo, a poet and pilot, composed love verses to Florence, which he published in his book, Il poeta e l'amore.
"He was gorgeous, a movie star," Florence sighed.
Florence thanked me for getting her out of "the ghetto of old age," with her daughters and granddaughters looking on. Florence helped finish my sentences as I inscribed, "Once upon a time…" 
Lily Koppel, author of The Red Leather Diary: Reclaiming a Life Through the Pages of a Lost Journal, is guest blogging on Jewcy, and she'll be here all week. Stay tuned.
——
Take a Special Sneak Peak at The Red Leather Diary paperback here.