Bill Murray Says: If It Wasn't For The Jews And Irish, There Would Be No USA
Remember that time Bill Murray wrote a song about how without the Jews and Irish that there would be no America? Read More
By Margarita Korol / May 26, 2011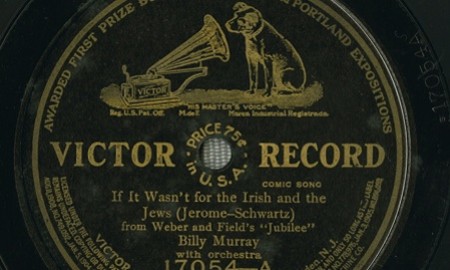 Jewcy loves trees! Please don't print!
As a former employee of the University of Chicago Library where the Library of Congress decreed the law of our land, I'm glad I wasn't working for the dark side (which doesn't happen to be the Dewey Decimal System, but Bloomberg). In true Wiki spirit, they are offering this dope service to humanity free of charge that includes recordings from the collections of the Library of Congress Packard Campus for Audio Visual Conservation and other contributing libraries and archives. It's like shuffling through the quarter bin at the used record store, where you'll find Jackson 5-equivalent gems like an Early Tin Pan Alley Playlist or Bill Murray's awesome, heavily disclaimed rendition of "If it wasn't for the Irish and the Jews." This obscure nexus of Bill Murray and Jew could only survive in the annals of the LC, and deserved this heavy technology update.
Oh wait, you thought it was that Bill Murray?