I Wish The New Maccabeats Purim Video Had Some Cats
I genuinely have to believe that a few seconds of a feline dressed as Mordecai or Haman would knock these guys into Waka Flocka Flame territory. Read More
By Naomi Zinner / March 8, 2011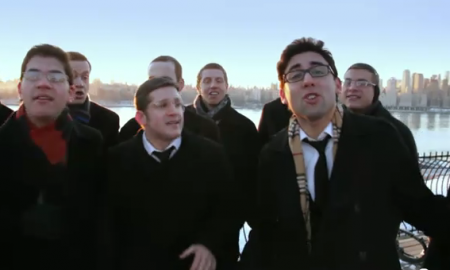 Jewcy loves trees! Please don't print!
I'm as smitten as everybody else when it comes to the premier all-male college a cappella group from Yeshiva University, The Maccabeats. So when my mom forwarded me their latest video featuring adorable babies, (possibly) single Jewish men in sombreros, and plenty of l'chaim-ing, I was singing along by the first chorus.
My one issue is this: why no cats?  The Maccabeats seem to have everything "cute" down as they continue their march towards being the number one Jewish internet meme, so why not introduce some cats into the fold? I genuinely have to believe that a few seconds of a feline dressed as Mordecai or Haman would knock these guys into Waka Flocka Flame territory.  But no, nothing.  Not even a cat dressed as a rabbi.