Post-Biblical Art-Pop + England + Sweden = Love: A Girls In Trouble Tour Diary
Alicia Jo Rabins shares her recollections of the Girls In Trouble tour across Europe. Swedish is spoken and good times are had. Read More
By Alicia Jo Rabins / November 4, 2010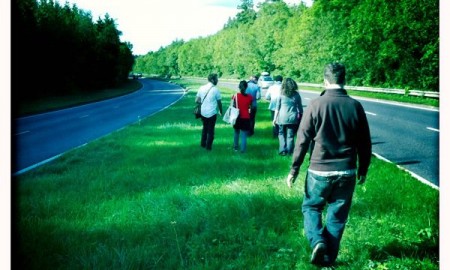 Jewcy loves trees! Please don't print!
Let's begin: Imagine a silent disco at Hogwart's Academy (or an eerily similar British boarding school.)  The music is badass obscure American soul from the 50's, but it's played over a radio signal, so only the headphone-wearing dancers can hear it:  a silent room full ecstatic, sweaty dancers getting down.
Now imagine the dancers are British Jews of all shapes and sizes, most of whom are camping in rain-soaked fields outside the school, and have spent the day attending sessions about topics ranging from Queer Torah Heroes to interfaith dialogue to breakdancing.
Kind of a complicated image, I know, but it's hard to describe the magical, unusual world of LimmudFest, the grassroots Jewish studies + art festival that was the first stop on Girls in Trouble's European tour this summer.  (Girls in Trouble is my band: original songs about obscure stories of women in Torah with violin, accordion, bass, electric guitar, a looping pedal, and special attention to the dark stories.
Limmudfest:  A one-of-a-kind, ready for adventure, and the most wonderful audience a Girl in Trouble could possibly imagine.  We taught sessions on some of the ancient women our songs are about, played a concert to the loveliest audience ever, danced to the other bands (and the silent disco), and met some truly awesome people.
Between all the teaching, performing and dancing, we managed to fulfill our lifelong dreams of running away from boarding school with our friends in DeLeon, who had also flown in from Brooklyn to perform.   Together we had an old-school, semi-dangerous adventure; hiking down the highway median strip through shin-high burrs for miles until we found the village of Washington, UK:  one graveyard, one fabulous pub.
Then it was on to London, where we had the great fortune to stay four nights in a luxurious house because most of the residents were away at Burning Man; thanks, America! Our local musician friend Ana Silvera set up an absolutely beautiful performance for the three of us (Ana, DeLeon and Girls in Trouble) at a club called the Macbeth, where our new Limmud friends showed up in force.  Looking out over the audience in London and seeing people singing along to the chorus of "Snow," not even a year after our album came out, was one of the more gratifying moments of life in music.  I still get chills thinking about it.
We took advantage of our three extra days in London to be tourists–ironically, a pretty rare thing on tour.  Our new friend Laura took care of us, brought us to the Jewish Music Institute where she works, and drank PG Tips with us in the afternoons.   And then off we wandered:  The Tate Modern;  Shakespeare's "As You Like It" in the £5 standing room section at the Globe Theater (another DeLeon inspiration); and a glorious drink with a new friend from Bread Loaf Writers Conference at the private Chelsea Arts Club, where you have to be a member just to get in the door.
And then on to Sweden to play at Stockholm's European Jewish Culture Day celebration.      Our accordionist, Jonathan, is of Swedish descent and this was his first time visiting the motherland.  Maybe this sounds weird, but it made me particularly happy to accompany Jonathan "home" to Sweden since I'm often in the opposite position, bringing non-Jewish musicians into massive groups of Jews.
I am totally in love with Stockholm.  It's a city of islands strung together with bridges;  and at least downtown, the water seems to absorb all the noise, so it's calm and beautiful.  Netta, who brought us to Stockholm, took marvelous care of us in the midst of producing the entire festival.  And even though it's the most boring thing to blog about EVER, I can't stop obsessively replaying our hotel breakfast in my mind:  three kinds of cheese, four kinds of bread, five kinds of smoked/pickled fish…ah.
Fueled by this miraculous breakfast, we performed upstairs in the synagogue, in a stunning room, in front of a portrait of Aaron Isaac, the first Jew granted permission to live in Sweden by Gustav III in 1774.  Once again the audience was absolutely, humblingly, magical.  After the show, our guitarist Elaina led us to a late-night dance party at a multi-level club and we saw the party side of Stockholm:  at 2 a.m., those quiet, orderly streets are packed with wasted Swedes in their 20's and 30's.  I've never seen anything like it, a kind of utopian all-blond party scene.  Not too many hours later, I co-led a study session with the new rabbi of the community, and I didn't recognize any of the partiers there.
Despite our pilgrimage to an exquisite all-you-can-eat vegetarian restaurant in Sodermalm, where the clothing shops and venues are, and a day wandering the narrow cobblestone streets of the old town, Gamla Stan, my favorite excursion was after midnight on our last night, roaming the island that used to be the king's hunting grounds.  It's now a park, and our new Stockholm friend, Swedish-Jewish musician and teacher Alexander, walked us there from the venue.  It was our last night of tour, and we all walked slowly along the gorgeous, dark paths of the island until very late.  And we still made sure to wake up for the herring sampler.