The Big Jewcy: Brian Shimkovitz – Pushing Awesome Tapes From Africa
Thanks to Brian Shimkovitz and his blog Awesome Tapes From Africa, that includes finding–you guessed it–MP3s of music from the African continent that you might not find unless you actually go to Africa. Read More
By Jason Diamond / June 8, 2011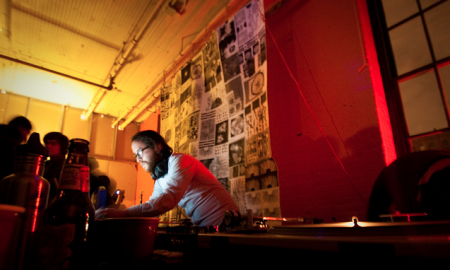 Jewcy loves trees! Please don't print!
Welcome to the modern age!  You can go on your laptop and watch movies, call your mother via Skype, or flush your entire political career down the toilet by taking stupid pictures of yourself.
You can also do anything or find just about anything on your computer, and thanks to Brian Shimkovitz and his blog Awesome Tapes From Africa, that includes finding–you guessed it–MP3s of music from Africa that you probably won't find anywhere else — unless of course you go to Africa and buy them yourself.
We talked to this 21st Century Allen Lomax about his project.
So how did the idea for Awesome Tapes from Africa start?
I had traveled in West Africa and brought back tons of interesting recordings on tape. I had them in my apartment and felt like it would be fun to share them on a blog. I guess it was a unique idea because after a while it became pretty popular with music fans.
How do you get your tapes?  Do people send them to you?
I first collected a bunch of tapes in Ghana and other countries because I was into collecting music and cassette was the best format on which to find the widest selection. More recently the blog has encouraged people to write me and offer to send me their collections.
When you DJ live, do you DJ mostly the type of stuff found on the website?
99% of the music I DJ is available on my blog. I also DJ some stuff I have not yet has the chance to post.
You're music publicists by day.  Are you living the music nerd's dream life?
Yes, I guess when you put it that way.
Can you give us a playlist (if you've got MP3s, send them my way) of your five favorite songs Awesome Tapes From Africa entries?