The Big Jewcy: Jacob Danish Sloan – Brooklyn Twee Pop Savant
We talk to chief songwriter and singer of the Brooklyn band Dream Diary. Read More
By Dave Horowitz / June 15, 2011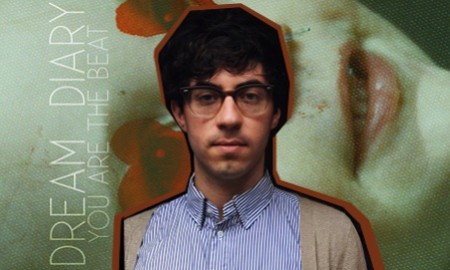 Jewcy loves trees! Please don't print!
Jacob Danish Sloan is an original. When he arrived to NYC 10 years with stand up bass jazz chops, and no experiences in bands, one might not have guessed he would have put together one of NYC's most engaging shoegazy bands. Dream Diary, just recorded and released their first LP, You Are the Best, on Kanine Records
Hey Jacob. What is your songwriting process like?
Well I bring in a preliminary, and we play it as a group. And then everyone writes parts and adds things, and changes it around. But it started out with me writing songs on my bedroom and just recording myself like that and that was the basis. And playing with a full band—that has taken on a life of it's own, and everyone has kind of changed the sound a bit with whatever they do.
Do you come up with chords & lyrics simultaneously?  Does the melody set it up? How do you work?
For me it's more chords and melodies, and then a struggle to write passable lyrics to go with it. I guess that's the way with a lot of musicians—it's either one way or the opposite, where you can kinda tell. Like with some people, like Lloyd Cole and The Commotions—it seems like he's struggling to fit in all the words that he wrote into the music cause he has so much to say. With others, it sounds like people are drawing the words out cause it's more about the music and less… haha, they're, ya know, more meager.
Who are some of your favorite lyricists?
Lloyd Cole. He's this Scottish/English song writer from the 80's who is really jangly, and made some great indie British pop of the 80's, but with an obsession with Americana, and classic American films, and that whole idea. So his lyrics are really cool cause that's where they're coming from.
Do you try to take any hints from his work lyrically?
Yeah‑not to be cheesy with a cliché, but, instead, how to paint a picture with words, and just kind of evoke something rather than just getting a point across.
So how did you start out in NYC?
I actually came up to NY when I was 18 for college. I went to jazz school for a little bit. I studied as an upright bassist. It probably looked kind of goofy cause I am pretty skinny, and slender. And to see me wheeling around an upright bass must have been funny.
So you left?
Yeah, the jazz world was not something I wanted totally to be immersed in. It was just the kind of thing, where being here and meeting all kinds of people totally changed what I wanted to do. I grew up in Philly, and I never played in bands cause I never met anyone who like the music I liked there. I was always into the Smiths, and jangly arpeggiated guitar parts… The Go-Betweens, I love. They're from Australia.
So you're on a Brooklyn label, Kanine.
Yeah, Kanine Records is great. Leo and Kay are a married couple, and they run the thing out of their house in Williamsburg. So it's nice that I can walk over to their headquarters whenever I want. I think the label started 5 years ago. They've done a lot of good bands. I think a lot of their bands are shoegazey which maybe we have a little bit of. Maybe that's the common element between all the Kanine bands. We put out one full-length record this past Spring, and I am eager to start working on the next one.
Have all the material written?
Not yet. I think we want to want to expand our instrumentation, and use all these kinds of sounds that aren't on the first one, and have it be less guitar based. I want to use everything from electric piano, to synth string pads, to glockenspiel… ya know, to make it a little mini pop-orchestra.
Are you playing full time? Touring soon?
No, we all have other jobs. I work at a publishing company a few days a week; Chris and Ale are busy with other things. The tours we've done so far have been short tours. We went to the Athens Pop Fest this past year, and the San Francisco Pop Fest. Those were really good. We also went to SXSW, which I didn't like as much of an experience.
Yeah, it's crazy there.
Yeah, it's just overwhelming, and hard to find what you want. People have already pointed out how commercial the whole thing is. It's funny how "indie" music now means music that's sponsored, and put forth by soda companies and beer companies, and car companies. Ya know, going to the Budweiser indie tent… I don't know, haha. I like the pop fests a lot of cities have, including NY. They're smaller and super specific. I like fests that are more of a niche.
Artistically, is music your main love?
Yeah. I mean, I want to keep making music as long as I can, and make things fit into that instead of making music fit around other things. It's hard in NYC when you're trying to do something like that, but it's inspiring since there lots of other people in the same boat, and amazing bands to play with. I love The Pains Of Being Pure at Heart, The Depreciation Guild, though it think they're finished as a band. And now, Kurt, the singer, has a new band called The Ice Choir. Big Troubles, I love.  They're a really good shoegazy band. Those are my favorites from NYC.