Primal Scream Therapy with Tortured Authors, Part 5: Iceberg Theory vs. Oedipussy
From: Marty Beckerman To: Matthue Roth Subject: Iceberg Theory vs. Oedipussy Matthue, You make an interesting point: authors are often unaware of what we say on paper, and sometimes our readers know more about us than we know about ourselves. … Read More
By Matthue Roth / October 3, 2008
From: Marty Beckerman To: Matthue Roth Subject: Iceberg Theory vs. Oedipussy
Matthue,
You make an interesting point: authors are often unaware of what we say on paper, and sometimes our readers know more about us than we know about ourselves. When the chief of my publisher finished reading Dumbocracy, his exact words were: "The manuscript seems preoccupied with sodomy." So I gave it another look, and discovered he was completely right — I am preoccupied with sodomy!
A book reviewer friend of mine insists that an author's life story should not affect our judgment of his or her work — for example, we should loathe Mein Kampf because it's logically unsound, not because a mass murderer wrote it. But we are products of our experiences, and our books are products of us, so it seems logical that our books are extensions of our experiences. (Shit, did I accidentally compare us to Hitler? And I thought comparing myself to Socrates was a little much…)
You write about a foreign-born social outcast in Losers, and his insecurities when it comes to prejudice and assimilation; if you denied that your novel is a vicarious examination of your Orthodox convictions, I wouldn't believe you for a moment. Even if a book is marked "FICTION," it's the product of a human mind, and Freud's most enduring observation is that self-expression leads to unforeseen revelation. (Extraneous question for Sigmund scholars: do gay dudes want to slay their mothers and bone their fathers?)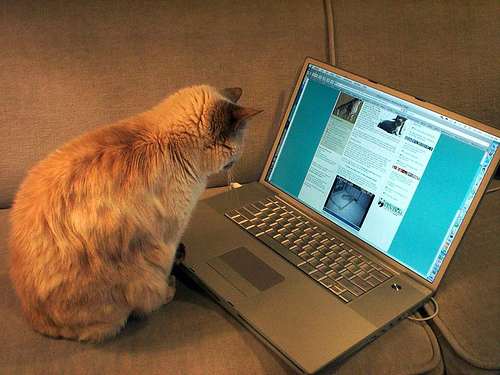 Perhaps it's not a coincidence that social networking sites such as MySpace and Facebook — which allow people to share their humiliating personal lives with others — became popular concurrently with blogs, which allow everybody to share their (unintentionally) humiliating thoughts with others. The Average Joe suddenly has the ability to write for a large audience, which was impossible ten years ago because of the editorial chain of command. Psychologists will have a voluminous supply of unhinged, self-incriminating bullshit to study for centuries to come.
As I said at the very beginning of our exchange, writers are not exactly well-adjusted people, but thanks to technology, everyone is a writer these days. Whereas authors once spoke for generations, we now speak with generations. And if we want to make our voices heard over the wretched cacophony, we might need to say more about ourselves — scream more about ourselves — than anyone wants to know.
Marty Beckerman and Matthue Roth spent the past week guest blogging on Jewcy.   This is their parting post.  Buy Marty's book, Dumbocracy, and Matthue's book, Losers.