Sacha Baron Cohen's Latest Film, 'The Dictator,' Disappoints Critics
Sacha Baron Cohen is back, this time as Admiral General Aladeen of the fictional republic of Wadiya in 'The Dictator,' and critics aren't impressed. Read More
By Jewcy Staff / May 16, 2012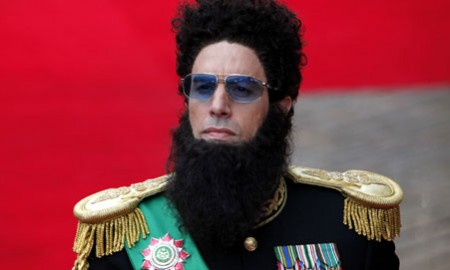 Jewcy loves trees! Please don't print!
Sacha Baron Cohen's latest incarnation, Admiral General Aladeen of the fictional republic of Wadiya, is here, and critics aren't impressed. In Tablet Magazine, J. Hoberman suggests that in The Dictator, Baron Cohen is trying too hard, while the film lacks the "conceptual rigor" of Borat and Brüno. From Hoberman we also learn that British people refer to the comic actor as SBC, which is something we wish we started doing earlier. He writes:
The problem is that, unlike Ali G, Borat, and Brüno, Aladeen is less a force of nature than a scripted performance. Despite Baron Cohen's insistence on giving interviews in character, The Dictator—directed, like Borat and Brüno, by Larry Charles—is entirely fictional. Da Baron has given up da shtick.
A.O. Scott calls the film lazy in the New York Times, adding that The Dictator "gestures halfheartedly toward topicality and, with equal lack of conviction, toward pure, anarchic silliness."
If it's any consolation, here's SBC in character, falling off a camel for real at the Cannes Film Festival:
(photo credit: TAL COHEN/AFP/GettyImages)