Shtickball: Where I Complain About The Lack Of Complaining Israeli Tennis Players
Israeli tennis players are experiencing somewhat of a resurgence, with names like Dudi Sela, Shahar Pe'er and Amir Weubtraub leading the charge. Why aren't they embracing their culture by whining? Read More
By Alex Eidman / September 16, 2011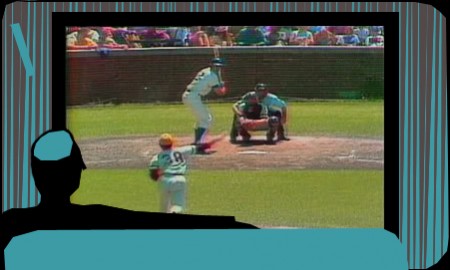 Jewcy loves trees! Please don't print!
The US Open wrapped up this week as Novak Djokovich took home his 3rd Grand Slam of the year, beating Rafa Nadal in a match chock full of long, scintillating points. However, I missed one of my favorite parts of tennis this Open: watching a random early match, turning to a friend and saying 'Hey, isn't that guy/gal Israeli'? And rightly so, Israeli tennis players are experiencing somewhat of a resurgence, with household names like Dudi Sela, Shahar Pe'er and Amir Weubtraub. Pe'er nearly cracked the top 10 a couple of years ago, and Sela was in the top 30 in 2009 and is still one of the top 100 players. These players are doing their countrymen proud, which include great champions of the 80's like Amos Mansdorf and Eyal Ran. Ok maybe 'champions' is the wrong word- BUT Mansdorf did get all the way to #18 in 1987 and beat world #1 Mats Wilander and arrogant douche (and fellow Jew/1981 Maccabiah gold medalist) Brad Gilbert to win the Paris Open (Wilander retired before the tournament began, but hey, you get em' any way you can!). But the all important 'prima donna' aspect of tennis would indicate that there should be many more top Israeli competitors on the tour than there currently are. Serena Williams overshadowed a great U.S. Open by screaming 'Come On!' in the middle of a crucial point, resulting in her losing the point and ultimately the match. Not to be confused with Serena Williams getting called for a foot fault in the 2009 U.S. Open semi's and going beserk on the diminutive Asian umpire who made the call.
I can think of no more worthy candidate to embrace, nay, epitomize pure, unadulterated immaturity and unsportsmanlike conduct than the Israeli people. Who would take more satisfaction in arguing calls, throwing tantrums, and hurling extremely inappropriate epithets at chair umpires? If Roger Federer can do it, I can find you dozens of Sabras who can put him to shame. They don't even have to be very good players, just make sure to make their tirades memorable enough to boost ratings. What's even better is that in the days of McEnroe, he could argue for a half hour and no one could be sure he was wrong. Now, the trusty Chase Review tracks every ball, so to see a crazy Israeli tennis player get into a frenzy over a ball that is objectively out would only cement their reputation as the most stubborn (stiff necked if you will) ladies and gents on the planet. It's your time Israel- take what is rightfully yours.