Show, Don't Tell: Social Commentary by Way of Multimedia
Another artist toiling forever as art teacher with a mature body of thirty years work in her fifth floor walk-up makes us think twice about what it means to be a kid.
Read More
By Margarita Korol / March 24, 2011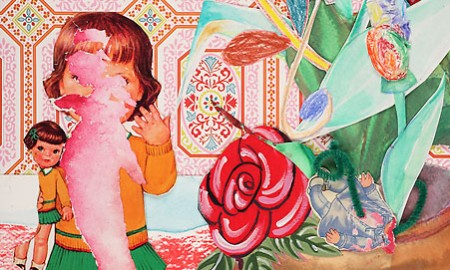 Jewcy loves trees! Please don't print!
"They cannot be isolated. They cannot feel separate from the culture. They have to realize that they are part of the system and they have to voice an alternative view. Their role basically is to offer alternatives." -Milton Glaser, Bluecanvas Magazine interview, April 2011 issue
When Glaser told me this in our conversation, I was fishing for the role of the artist in the midst of social malaise. Is an artist to prettify the planet and distract from surrounding dystopias, or is it important to act? This spring heralds in the opening of a few exhibitions with artists equipped with the tools of their craft that make you think twice about the status quo.

Where better to disspell generalizations than in the realm of corruptable youth? Esopus Space is presenting thirty collages on childhood from Bonnie Lucas in which she navigates the rocky terrain of childhood in more dimensions than three in her first solo show in a decade. "Another artist toiling forever as art teacher with a mature body of thirty years work in her fifth floor walk-up" was the intro I got from documentarian Laurie Gwen Shapiro, whose daughter Violet learns artmaking with Lucas, the sister of Captain Beefheart's former guitarist Gary Lucas (now doing his solo thing and scoring silent films). In said Spring Street studio, select pieces radiate on the walls as brightly as Lucas's independent and resourceful teacher spirit. Philosophies of humbleness and empowerment are mirrored in the collages by a hodgepodge of recycled child and adult art and found objects calling forth a sense of kitschy nostalgia that deepens into reflection on the creative psyche of a burgeoning individual.
"The cultural narrative paints childhood as something very innocent. But it's really more complex than that." With her emphasis on opposites, transformation, and reappropriation, Lucas's direction to the viewer is similar to that which she provides her four, five, and forty-five year old students–to engage in a search for identity beyond the given and to be resourceful. In presenting the reuse of materials through collage, Lucas gets to the root of what it is to engage in radical consumerism: it's simply uncreative.
That commitment to the resuscitation of creativity is echoed over in post-Fame City Bridgeport, Connecticut at a time when the lack of legitimization of graffiti culture threatens 5Pointz closure over in NYC. Another group of frontiersmen have taken on saving the artform at Read's Art Space in their show A Beautiful Crime opening March 25. In the sort of meta-communication on an urban endangered language, the onus is on the artists once again to ward off the public's premature conclusions.
Meanwhile back in New York, last week the Kitchen opened Shame the Devil, a group show that will kick your ass into a dialogue on sociopolitical power struggle in its many guises via more art forms than you'd imagine could fit in their space. Worth checking out, especially in time for the show's live performances.
"If art is to nourish the roots of our culture, society must set the artist free to follow his vision wherever it takes him." -JFK
Bonnie Lucas: Collages
Esopus Space
64 W 3rd St, #210, NY
Opening Reception: March 29 6PM
Through May 3
A Beautiful Crime
Read's ArtSpace
1042 Broad St., Bridgeport, CT
Opening reception: Friday, March 25 5PM
Through April 25
Shame the Devil
The Kitchen
512 W 19th St, NY
Special performances in The Kitchen's theater will be presented in conjunction with the exhibition: My Barbarian's Broke People's Baroque Peoples' Theater on Saturday, March 26 at 7:30 P.M., and Michael Paul Britto's This Little Word of Mine and Kenya (Robinson)'s YOURMAMADONTWEARNODRAWS on Friday and Saturday, April 29 and 30 at 8:00 P.M. Tickets are $10 for both shows.
Through April 30