Shtickball: Sweepin' Up the Chametz, Baseball Style
In the Passover spirit, we do some baseball cleaning. Read More
By Alex Eidman / April 14, 2011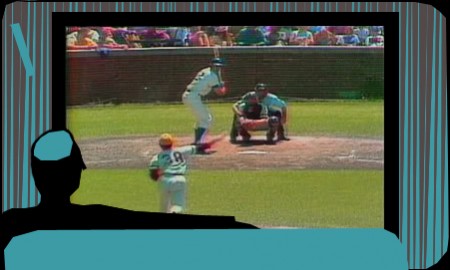 Jewcy loves trees! Please don't print!
As Passover approaches, anal-retentive Jewish mothers across the globe will be concocting elaborate plans on how to clean every crumb of chametz in their respective households. While moms may rejoice in the idea of a tidy household (if they're not too worried about how much matza pizza they're gonna have to churn out in the next week), there is an elegant symbolism in ridding your house of crumbs and bits of food that have been leeching off your perfectly nice Morrocan shag.
Unlike chamtez, which is classified as 'leavened products' forbidden on Passover, every baseball team has dead- weight players whose performances leaden rather than leaven their respective clubs. While I don't advocate human sacrifice, these players could easily be swept up and out of the majors, and then possibly burned outside your house like the old sandwich you found hanging out in your armoire. Sometimes, you can't be too careful.
Corey Patterson, Toronto Blue Jays
Patterson was once a serviceable player for the Cubs but has been pretty bad for a while now. Got a chance to play last year, was good for about a week and then turned on his own special brand of 'no power, no getting on base'. He is once again getting a chance to play with Rajai Davis hurt, and I have no doubt he will be thoroughly underwhelming in all facets of the game.
Jeff Francouer, Kansas City Royals
Francouer was once a highly touted prospect with the Braves who made a memorable debut by hitting for power while adding a cannon for an arm. It's amazing that was only five years ago: he's sucked for so long it seems more like ten, most recently on a forgettable 2010 Mets squad. Francouer has an uncanny ability to swing at pretty much every pitch he's ever seen while making little to no contact. He's also an avowed born-again Christian, which means he believes God has a plan for him, and he's probably right, because God has finally delivered him to a deservedly horrible franchise.
Yuniesky Betancourt, Milwaukee Brewers
While the name may be fun to say, Yuni is absolutely no fun to watch. In 2009, he had an on base percentage of .274 and a slugging percentage of .351. That's, like, impressively awful. He also makes lots of errors. He's the kind of guy you hope is involved in some way when the game is on the line. That is, of course, when your team is playing against him.
Ryan Rowland-Smith, Houston Astros
Pitching for a doggedly bad Mariners team last year, Rowland-Smith went 1-10 with a 6.75 era and a 1.69 WHIP with almost no strikeouts, nailing the 'quadruple crown of shit' award for 2010. RRS has since moved on to the Astros, who are shaping up to be as bad, if not worse, than the 2010 Mariners. With their aquisition of Smith, we can rest assured that their commitment to crappitude is legit.
Phillie Phanatic, Philadelphia Phillies
I know he/she is not a player, but seriously, can we get rid of this whackjob once and for all? He looks like a muppet Jim Henson created while on a deranged meth binge.
In other news, check out this ridiculous catch made by Shtickball's favorite son Sam Fuld, probably the best play made so far this season. Due in part to the Rays current putridity, Fuld is getting a chance to play almost every day and making the most of it, batting .320 with 6 steals on the season. Now that's a good yid!