Shtickball: Checking in on my Fantasy Baseball Team
Let's take a look at the booms and busts on team Shtickball so far. Read More
By Alex Eidman / May 13, 2011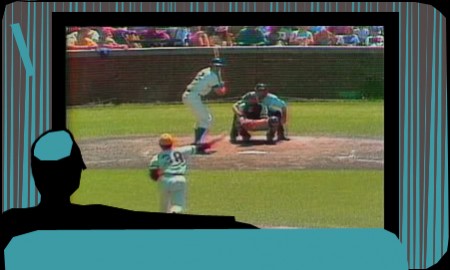 Jewcy loves trees! Please don't print!
Now that the season is almost a quarter over, people are starting to realize just how insanely long baseball season actually is. Which makes its fantasy counterpart the toughest type of fantasy sports league to win. One must not only prep for a loooooong draft (mine went 25 rounds!), but must be diligent in regularly trolling the waiver wire for potential additions. Last year my late round picks of David Price and Neftali Feliz combined with my savvy pickups led to an almost wire-to-wire first place finish. Let's take a look at the booms and busts on team Shtickball so far:
David Wright, New York Mets
Leading the charge of disappointment that is the 2011 Mets, Wright has thoroughly underwhelmed owners to the tune of a .240 average, diminished home runs and rbi's, and strikeouts galore. Watching Wright struggle is bizarre, since he should be in the prime of his career and instead is missing easy pitches and losing his plate discipline. It's really amazing what shitty karma will do for a player. Damn you Fred Wilpon, damn you.
Martin Prado, Atlanta Braves
A rock solid player who hit .300 last year and is eligible to play second, third or outfield (flexibility like that makes fantasy owners giddy), Prado has delighted fantasy owners by upping his power numbers this year, . Last night he was a one man wrecking crew, hitting a grand slam to tie the game and scoring the winning run in extra innings. He also seems to be some kind of sorcerer, which is also cool to have on your squad.
Starlin Castro, Chicago Cubs
On name alone, this guy was a great pick, and the 21 year-old Castro has exceeded all expectations, hitting.300 with more power than anyone expected. As a 9th round pick, this kid could prove one the best value picks of the entire season. It's also nice that they don't count defense in fantasy.
Jaime Garcia, St. Louis Cardinals
I waited to draft pitching this year because the talent pool was so deep, and manage to steal Jaime in the 16th round. A contender for rookie of the year in 2010, Garcia has been outstanding this year and has cemented his place as one of the aces of my staff. After another great outing last night, he owns the second best era in the league. I also never turn down a chance to get a guy whose name is a Spanish version of Hymie.
Michael Pineda, Seattle Mariners
My very last pick, and WOW has this 25th rounder paid off so far. The 22 year-old rookie fireballer has baffled hitters with his electric fastball and nasty, knee-buckling slider. In other words, the kind of pitcher that gets you to subscribe to mlb.tv so you can watch all of his starts. Totally worth it, Mike.
With other stalwarts like Prince Fielder, Colby Rasmus and Jhoulys Chacin, my team is once again in first and poised to repeat as fantasy champion. And yes, I know, I probably should be caring more about things that are happening in the real world. But fake winning just feels so good!