Shtickball: Jews and Baseball: Love at First Strike
It's the great love story: Jews and baseball. Read More
By Alex Eidman / April 8, 2011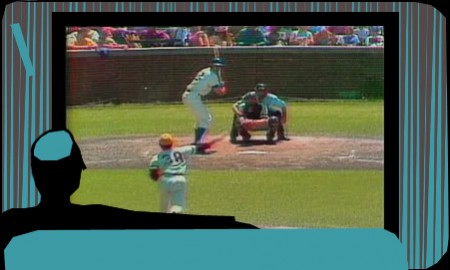 Jewcy loves trees! Please don't print!
Last week Shtickball focused on Jewish players to keep an eye on this season. These were only some of the Jewish players in the MLB right now, and the relationship between the Jews and the game of baseball is as strong as ever. With that in mind, we examine Peter Miller's 'Jews and Baseball: An American Love Story', which premiered to much fanfare at all the hip JCC's around the country last year, and is continuing its run through the summer (check your local jewish listings). Narrated by Dustin Hoffman, it documents the storied relationship between the chosen people and America's pastime, dating back to the first Jewish player, Lipman Pike (who somehow got a book written about him this year).
If you wax nostalgic about the old days before the internet and iphones, when it was just about having a catch and catching a day game at Ebbet's Field, you will definitely enjoy this film. It has a wealth of footage from the first half of the 20th century, complete with commentary about the rich history of Jews in baseball. It also contains extensive treatment of the first Jewish superstar Hank Greenberg, as well as Cleveland great Al Rosen. These segments include interviews with family, friends and sportswriters about the impact of these players on the Jewish population and baseball as a whole. Greenberg comes off as a particularly endearing figure, a man who always stood up for what he believed in and carried himself with the utmost dignity in the face of tireless prejudice.
A big part of the film is devoted to Sandy Koufax and his legacy as the greatest Jewish ballplayer ever. Koufax is notoriously stingy about giving interviews, but agreed to participate in the film and comes off as a genuinely thoughtful, nice guy. The film also deals with Koufax (and later, Shawn Green's) decision not to play on Yom Kippur. Both players' teams were bidding for the playoffs, and the decision to 'be cool, stay in shul' showed not just piety but a sincere effort to stand in solidarity with the Jewish nation. Their decision to observe the holiest of Jewish holidays rather than play (admittedly crucial) games established Koufax and Green as great Jewish role models.
In addition to the more high profile Jews interviewed, (the always unsavory Bud Selig, Ron Howard, Larry King), the film also deals with some more obscure Jewish individuals whose influence on the game is no less profound. Marvin Miller, head of the players union from 1966-1982, helped make the MLBPA one of the most powerful and cohesive unions in the country and was instrumental in changing the reserve clause that previously prohibited players from becoming free agents. It is these kinds of nuggets that make 'Jews and Baseball' such an endearing and enlightening film, one you might even consider breaking shabbos to go see.