The Big Jewcy: Adam Soclof, Hypersemitic.com/JTA Archive Blogger
Making videos with nearly 100,000 views, finding esoteric news, helping the Jewish community: Adam Soclof does it all. Read More
By Hayley Goldstein / June 1, 2011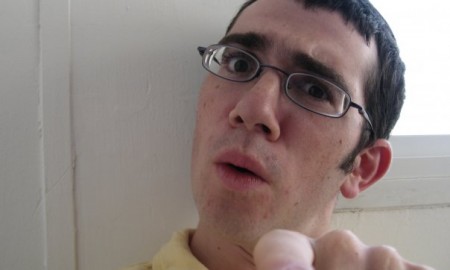 Jewcy loves trees! Please don't print!
Born and raised in Ann Arbor Michigan, Adam Soclof is an influential Jew spread between many organizations and communities. After completing the Schusterman Insight Fellowship—a two-year program that places fellows in various Jewish non-profits in New York City—Soclof now works full time for JTA. Assisting in marketing, development, video production and blogging for the JTA Archive.   That alone is enough for one person, but that it isn't even close to all Adam does in the Jewish world.
Being a member of the PresenTense community since 2007, Adam is now working on developing Gelt Rush, an online resource that aggregates Jewish funding opportunities including scholarships, grants and fellowships.
Soclof is also well known for Haman Song, a Purim video he produced in 2007 with Bible Raps.
Don't let the fake beard put you off—this video is hilarious, and, not a bad telling of the Purim story.
In his spare time, if he has any, Soclof enjoys nature walks, documentary film, and tracking trends in social media. Check out his blog HyperSemitic, where he occasionally shares offbeat Jewish news and videos.